Frank Gore was not supposed to be in the NFL for over a decade. He was not supposed to recover from tearing both of his ACLs and then both of his labrums to build a no-doubt Hall of Fame career, and yet here he is, still a big part of an offense at age 35, still running, and still setting records. With this eight-yard rush against the Jets yesterday, Gore passed Curtis Martin to climb up to fourth on the NFL's all-time rushing leaderboard. It was a classic Gore run, as he dragged a pair of defenders forward to claw out a few extra yards after getting hit.

The NFL is a meat grinder of a league, where careers are short and every single player is a replaceable cog whose chief value to their team comes during their rookie contracts and franchise-tag seasons, before they either have to be paid fairly for their labor or cast off in favor of the next cheap 22-year-old. The salary cap and the ever-present threat of catastrophic injury hold this system in place. This cruel reality is most acutely felt by running backs, and teams are hesitant to commit to even the very best backs out of a combination of injury worry and the cynical if not necessarily correct assumption that they can replace a reasonable percentage of a back's top-end production at a fraction of the cost through the draft.

All of which is to point out that players like Frank Gore shouldn't exist. But Gore has remained productive far beyond the point when most star running backs tail off. He currently has a record 12-season streak of 1,200 or more yards from scrimmage. He has played in all 16 games for seven years running, and he looks like he'll get plenty of playing time for the Dolphins in 2018. He's outlasted basically every other back from the mid-2000s (the first three backs selected in the same draft as Gore were Ronnie Brown, Cedric Benson, and Cadillac Williams, to give you a sense of how long he's been doing this), despite five potentially ruinous injuries, and survived to compete for a job against a dude 11 years his junior.
And yet Gore doesn't have the widespread recognition of many—of any—of his peers on the all-time list, probably because he never really won much. Until 2011, the 49ers never finished over .500 with Gore in the backfield. Gore averaged 1,107 yards on 4.4 yards per carry in a decade with the Niners, but only appeared in three postseasons. His steady production has also never been especially sexy, at least for fantasy purposes: he topped 1,300 yards just once, and only scored double digit touchdowns once, in 2009. The truly special thing about Gore is that he just never slowed down.
G/O Media may get a commission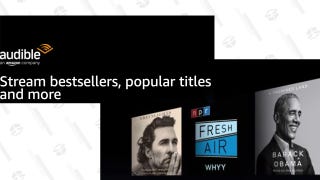 FREE
Audible Premium Plus 3-Month Free Trial
Gore didn't want to leave San Francisco in 2014, and even though the team drafted Carlos Hyde in the second round, Gore has talked about how he would have been happy to fight for his job if the money had been right. He understood the realities of the market, but after overcoming devastating injuries and grinding for a decade, the idea of losing his job without someone earning it away from him did not make sense to him. As he told Stephen Holder of the Indianapolis Star in 2015:
"I mean, you could let us compete. You didn't have to say I was automatically going to take the back seat. Put it on me. I mean, bro, I finished last season with 1,100 yards. Every time I got opportunities, I did something with it. So, I felt like, 'Fine, if you want to go with the young guy, (make him) beat me out. It wasn't like I can't play anymore. If he beats me out, I can handle that. You can't play this game forever. I knew I couldn't be there forever. But I was there 10 years and I played every down the same whether we were winning or not."
Gore then played three seasons for mediocre Colts teams, nearly averaging 1,000 yards a season and comfortably outproducing Hyde.
Gore's teams' pedestrian win-loss records have kept him from being truly appreciated as an ironman in an age of rapidly shortening careers. It would be remarkable if anyone notched a 1,695-yard season shortly after tearing both knees and shoulders, but Gore was one of the best 10 or so running backs for a period that's five times as long as the average running back's career. Some of Gore's longevity can be chalked up to the fact that he is shaped like a tree stump and can get lower than most tacklers, though he could certainly also bust out big runs. In fact, he's one of only three running backs in NFL history with two touchdown runs of over 75 yards in a single game.

Gore needs 1,157 rushing yards to catch Barry Sanders for third all-time, and that will be a tough mark to reach this year since Kenyan Drake is clearly the lead back in Miami. Gore has talked about retiring in the recent past, but if he wants to keep playing, he's shown that he still has the talent and drive to maintain a career in one of sports' most inhospitable positions. Gore could definitely get there by helping a weirdly competitive Dolphins team over the next year or two, and he's not desperately chasing records past his sell-by date like, say, Adrian Peterson. He's also working cheap, earning just $1.1 million this season. The NFL is not a sentimental enough league for him to get carries out of charity.
If he doesn't catch Sanders, that's fine. Gore isn't in the NFL to make history. As he told Peter King last December:
"But if this is it, if this is my last year, I want everybody in the NFL to say, 'He was a football player. Period.'