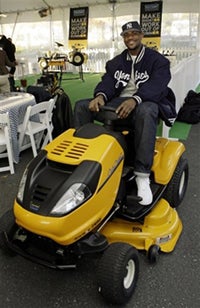 As established, we're dangerously close to the start of the NBA season, with all its drama storylines and sturm und drang and months of madness. To us, part of the beauty of the NBA is that its focus, while ultimately on the team, falls on the individual. The plight of one player becomes an epic tale in the shadow of Jordan; who is the real alpha dog? It's this source of expression and personal comedy/tragedy that makes the game so compelling. There's nowhere to hide out there.
No site captures this feel more than the great Free Darko, which we read like a doctor's chart every day during the NBA season. They understand the dichotomy between individual achievement and collective glory, and how those are not mutually exclusive. And they've got a way with letters too.
Therefore, we've asked them to look at the arcs of certain players going into this season, what 2006-07 means to them, their teams and their legacies. They'll be previewing a player a day, up to tipoff next Tuesday.
Today: LeBron James. Your author is Dr. Lawyer IndianChief. His words are after the jump.
————————————————————
LeBron James entered "Stage 2" of the Jordan Narrative last year, as we watched him finally make the playoffs, actually win a series, give the Pistons a scare, and then exit. As the Pistons virtually imploded and as Mike Brown quietly outcoached Flip Saunders, many of LeBron's playoff late-game missed free throws and turnovers were swept under the rug. We let him momentarily shed the "un-clutch" tag that had shadowed him all season, and we all patted him on the back and gave each other high-fives. We were happy he made it, and we knew what was to come. Upon the end of the Pistons-Cavs series, Commissioner Stern turned to Lebron and said, "Son, next year is the year that again the Pistons eliminate you, bring you to tears, frustrating you to the point that you just can't take it any more ... and then you push even harder, winning the title in 2008 (of course once we arrange for Rashard Lewis to join you via sign-and-trade)." Nipping at his fingernails, LBJ nodded quietly.
Jordan Narrative and playoff intrigue aside, LeBron's numbers were the most impressive since MJ, and I have extreme difficulty in understanding how Nash was deemed more important to his team than Bronzino. [I seemed to be the only one not doling out praise to the moves Danny Ferry made last year. Um, does any part of Damon Jones, Larry Hughes and Donyell Marshall scream "championship" to you?]
LeBron James is not a businessman — "he's a business, man." From Sprite to Nike to Bubble Yum, 'Bron's face is ubiquitous. Apart from the mere marketing blitz, and in addition to establishing himself as a brand name a la Jordan, LBJames is positioning himself to become a one-man empire. MJ had traditional Joe Namath/Wilt Chamberlain aspirations of athlete coolness. Shaq went the entertainment route, going for juvenile Denzel-meets-Biggie status. Lebron, in an unprecedented manner, wants to be Donald Trump: surrounding himself with a personal business team (AKRON FAMILY), pioneeringly rejecting a maximum contract extension in favor for waiting for a new NBA Labor deal (so he can cash out even bigger), and publicly proclaiming his hopes to become the world's first billionaire athlete.
One has to wonder the degree to which these financial goals (in addition to the man's standard super-endorser workload), like Shaq and his ill-fated music and film attempts, are providing any sort of distraction to 'Bron's quest for his pre-destined Larry O'Brien blingometer. We famously remember (Del Harris playing the fall guy) Phil Jackson telling Shaq to abandon his Hollywood exploits in favor of focusing exclusively on winning a championship. Who will be around to get Bronzino's mind right? Everyone is tiptoeing around E.1999 Eternal so shook that 'Bron might flee Cleveland that nobody wants to say a word. 'Bron's grip on the league has grown too strong, too quickly. His power within the Cleveland organization ultimately undermines the authority of Mike Brown, the best young coach in The Association next to Skiles, which eventually will pose major problems for the team's championship aspirations. LeBron can't do it alone, and he can't do it with so much more on his mind than the game itself. As with Jeters and Mannings, the league marionette-masters will do everything in their power to assure LeBron gets is L.O'B. That LeBron seems all too aware of his destiny may provide some unforeseen roadblocks in his path.
Oddly enough, the solution to 'Bron's predicament is that he must use his power for further evil instead of faux-good. Instead of this hokey peace-keeping/"I like Larry Hughes and think he can be my Pippen" bullshucks, I would like to James stronghold the organization. Make them recognize that everyone from Daniel Gibson to Daniel Gilbert is an employee of LeBron James Enterprises. If 'Bron gets sick of Damon Jones yapping, chucking up shots and playing zero defense, he should force the team to trade Jones away. The next time Larry Hughes goes down with a pinky injury, LeBron should rip him to shreds. If 'Bron doesn't get 20 shots a game, he should throw a fit. The Cavaliers already cater to his every wish (for subtle examples, see: signing Drew Gooden, firing Paul Silas), so he might as well use his pull to get his team playing like dawgs. Also, it would give him a chance to wipe that creepy deliberate perma-smile off of his face.
Bronzino's mental state aside, one has to wonder whether his game can actually sustain its unmatched 2005-2006 level, or furthermore, if 'Bron's game is suited for winning a championship alongside a supporting cast that now rates below that of Miami, Detroit and even Chicago. No player in recent history has single-handedly dominated a playoff run from the small forward spot. One could argue that Larry Bird did exactly that, but even Bird was backed up by a hall-of-fame frontcourt. One has to worry that 'Bron's hybrid/Magic-at-the-3 position is not conducive to league domination, without being complimented by some serious co-stars (see: NOT Larry Hughes). Commissioner Stern's biggest fear should be that LeBron turns out to be nothing more than KG with a better developing three-point stroke, which at this point remains a possibility. The solution to this problem of plagued anti-positionality, which would ultimately solve the problem of Cleveland's PG situation as well, would be stick LBJ at the 1. That way, the Cavs, and the league itself get to see the ball in the hands of the man who already holds their future in his palms — and what a show he would run.