The internet loves a few things more than the regular population does. Chief among them are animated GIFs, pornography, and scripted NBC shows. But the internet does not love Mitt Romney. So when Romney co-opted the motivational cry of Friday Night Lights's Dillon Panthers, the internet smelled cynicism and opportunism. You know who else smelled the same thing? Peter Berg, the creator of Friday Night Lights.
Berg sent a letter to Romney telling him he doesn't stand for anything the show does, so he ought to quit it:
I was not thrilled when I saw that you have plagiarized this expression to support your campaign by using it on posters, your Facebook page, and as part of your stump speeches. Your politics and campaign are clearly not aligned with the themes we portrayed in our series.

The only relevant comparison that I see between your campaign and Friday Night Lights is in the character of Buddy Garrity—who turned his back on American car manufacturers selling imported cars from Japan.
Ouch, Romney. You're basically the political equivalent of J.D. McCoy now. (Or maybe even Ray "Voodoo" Tatum.)
Thing is: "Clear eyes, full hearts, can't lose" might have been the silliest recurring bit of the otherwise brilliant series. Observant viewers will notice that the writers gradually did away with it as a motivator, presumably because it sounded so corny and un-Coach-Taylor-y. Coach Taylor has genuine charisma. The man can command a room with his squawky drawl and that whole black Irish thing.
G/O Media may get a commission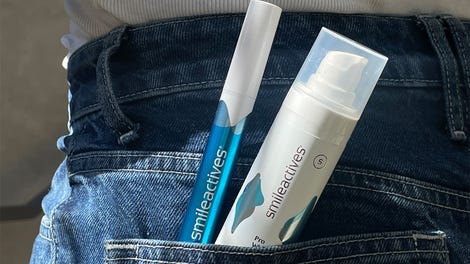 58% off
Whitening Powerhouse Pen & Gel Duo
Eric Taylor never needed hokey catchphrases. That's not how football coaches talk. It's how phony football coaches talk. No surprise, then, that it's the bit Romney appropriated.
'Friday Night Lights' Creator Accuses Mitt Romney of Plagiarism in Threatening Letter (Exclusive) [THR]