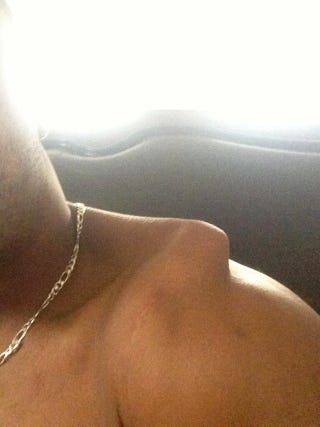 Seattle wide receiver Doug Baldwin didn't play in the Seahawks' week three win over the Packers—you know the one—because of what was generally described as a "shoulder injury." The Seahawks listed Baldwin as "questionable" as late as game day. That's the injury Baldwin almost played with over there, tweeted out by Baldwin yesterday in response to a fan who asked why he had missed the Green Bay game. Questionable indeed. (Click to enlarge. Aah! Close tab!)
Fun note: Baldwin incurred that grosss injury while playing with a different gross injury:
Baldwin, who played last week despite breaking his teeth going for a diving catch against Arizona, is now battling a shoulder injury, which caused him to miss Friday's practice after being limited on Thursday.
Ban football.
[Twitter]