Rick Chandler's Minor Enterprise, a look at the world of minor league baseball, runs every Friday.
I'm pretty sure that Rod Beck is looking down from that big RV in the sky right now and smiling, because tonight is Mullet Madness with the Vancouver Canadians (Class-A Northwest League). Minor league mullet nights traditionally include activities such as hubcap-tossing, toilet-seat horseshoes or a demolition derby. But the Canadians have a different twist; they're actually giving out mullets. Yep, any fan who makes a donation to the Canadian Cancer Society will be handed their own mullet wig upon entering Nat Bailey Stadium tonight. And who knows, Canadians office manager Jason Takefman himself may give you yours! (Sorry, no skullets). One question though: In Canada, don't they actually call it hockey hair?
A special report on Mike Tyson Ear Night, more promotions and the Politically Incorrect Logo of the Week, all after the jump.
• Special Report From Mike Tyson Ear Night. Thursday, June 28. Fort Myers Miracle (Class-A Florida State League). "Greetings from Mike Tyson ear night! Not as much fun as Billy Donovan Night, but mildly entertaining. Free ears, as you can see. And they posted Tyson quotes around the stadium, and they had a special ... ears and beers for $4. Elephant Ears and mystery beer... my mystery beer was a Natty light." [Thanks to Spencer Cordell]
G/O Media may get a commission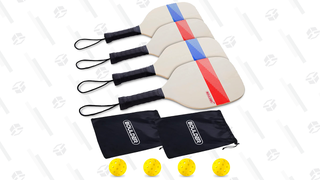 It's Pickleball
Pickleball Sets
Upcoming promotions ...
• Pajama Date Night. Friday, June 29. Orem Owlz (Rookie Pioneer League). If your idea of a romantic evening is wearing your pajamas in public and then lying on a blanket on the infield grass for a special showing of Shrek, then by all means, this night is for you.
• Arden Cogar Wood Chopping Exhibition. Tuesday, July 3. West Virginia Power (Class-A South Atlantic League). There isn't much I wouldn't give for a dual promotion involving world champion woodcutter Arden Cogar, and the Stanford Tree.
• 101st Birthday Of The Hot Dog. Thursday, July 5. Hagerstown Suns (Class-A South Atlantic League). To celebrate the birthday of this American staple, all hot dogs will be $1.01 on this special day. And coincidentally, the guy who ate that very first hot dog in 1906, Walter Breuning, is still around; the 110-year-old threw out the first pitch at a Great Falls White Sox game last week.
• Invention Of The Week. The Stadium Butler. Chattanooga Lookouts (Class-AA, Southern League). Exciting news! "The Lookouts have teamed-up with locally owned and operated World Technological to introduce a fan-friendly product called the Stadium Butler." Let's see ... room to store batteries to throw at Barry Bonds, check. Pocket for bottle of Wild Turkey, check. International Communist Studies newsletter, check. Hold on, what's the item in the upper left corner that's been blurred out? Some sort of flammable missile kit? Wait, no; just Doritos Nacho Cheese flavored chips, it appears. Whew! (By the way, any particular reason that these two have arrived to the game so painfully early?).
• Politically Incorrect Logo Of The Week. Kinston Indians (Class-A Carolina League). Political incorrectness, thy name is Kinston, NC.
We want your minor league tips! Send all photos, first-hand accounts or ideas for inventions to RickChand@GMail.com. And thanks!