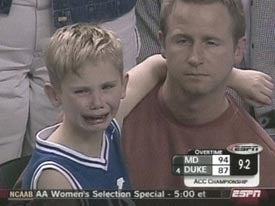 As we all know, Duke basketball and ESPN grew up together; slept on each other's sofas, double-dated, brought each other homework when the other was too hung over to make it to class. But now the relationship has become frosty. Hey, we all grow up, man. Duke and ESPN just don't like all of the same things anymore. From Duke Basketball Report:
All of this adds up. And the latest bit of drivel from Bristol really makes you wonder: has ESPN decided that Duke Hating is good for ratings? Is it official business for the dominant player in sports media to bash one school in particular?
Yes, the folks at Duke are somehow under the impression that ESPN has been picking on them. Instead of this nonsense, Duke should construct campus statues of Vitale and Berman, at which all students should gather and pay homage at least once per day. A more symbiotic relationship you will never find in nature, unless it's that tiny bird that lives on hippos and cleans their ears.
Hey ESPN: Enough Is Enough [Duke Basketball Report]
Unreal ... Cameron Crazies Mad At ESPN! [The Big Lead]