Angel Villalona, a Giants top prospect, was scouted at 13 and signed by San Francisco at 16, and now, at 19, he's the prime suspect in a murder in the Dominican Republic, a top prospect of an entirely different sort.
In 2006, Villalona received what was then a club-record $2.1 million signing bonus from the Giants. On Sunday, according to the Associated Press, he turned himself into police, roughly 12 hours after a 25-year-old was shot in a bar in La Romana. Details are trickling in from the Dominican press. It seems the victim, Mario Felix de Jesus Veleta (or possibly Valette), had argued with Villalona over a VIP seat in a brewery called Tony Super Fria (Tony Super Cold). He was shot in either the chest or the neck or possibly both, and died a short while later.
MLB.com's Chris Haft talked to one of Villalona's teammates in single-A ball last year and got this bit of context:
Right-hander Waldis Joaquin, a fellow Dominican who played with Villalona at low-Class A Augusta last season, didn't address his former teammate's case specifically. But Joaquin pointed out that in his country, people occasionally shoot first and answer questions later if they're being hassled by a group.

"Maybe if you have five people in one fight, you don't want to leave, and if you have a gun, you [fire it]," Joaquin said.
Another teammate, Garrett Broshuis, took to his blog:
A giant of a kid, homesick and still growing up, navigating his way through the labyrinth that is professional baseball; that is how I would describe teammate Angel Villalona. The game delivered him good times and bad, and he reacted as any teenager would react when under a pressurized microscope. He threw an occasional tantrum but got over it and would soon have a smile on his face.

[...]

I am told often by my teammates that the streets of the D.R. are dangerous. At times they exaggerate no doubt, but the latest data puts the murder rate at 23.57 per 100,000. This is much higher than the United States' rate of 5.8, but also much lower than the famed city of Detroit, which posts a rate of 46.

Still, most of my Dominican teammates claim to carry a pistol with them wherever they go.

"Everyone else has a gun, so you have to carry one too," one of them told me recently. "Especially if people know you are a baseball player, they might try robbing you, so you have to carry one for protection."

I don't know how much of their pistol-packing claims are based on truth and how much are based on myth-building machismo, but enough of them have made the statement that it seems plausible that a plethora of guns fill the streets of the D.R. With that many loaded weapons around, nothing good can come from an altercation.
G/O Media may get a commission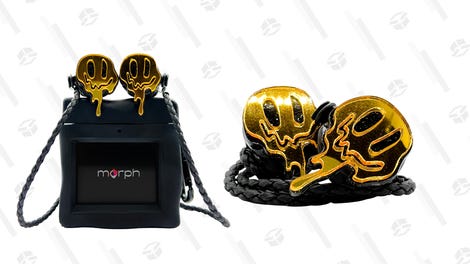 morph audio
Morph Earphones
Villalona was the face of the Giants' renewed commitment to scouting the international game. As an 18-year-old Sally Leaguer, he hit 17 home runs and 29 doubles. Baseball Prospectus made him the youngest player ever to be included in its annual, writing, "The sky is the limit like it's been for no other prospect perhaps since Alex Rodriguez was drafted." His ceiling figures to be considerably lower now.
Giants teen Villalona suspected of murder [MLB.com]
Updates On The Villalona Situation 9/21 [SF Dugout]
Villalona: teammate turned murder suspect [Life in the Minors]