Today is my last day at Deadspin after seven years of forcing you to watch dumb shit I saw on TV. To commemorate my departure, I went through all 5,128 animated GIFs I created during my tenure here to select, and rank, the best of them.
This was not an easy task! It took days. The first cut left me with 105 GIFs, the second cut with 57. Here's what remained after the last cutdown; I could not really bear to deprive you of any more. (The title above each GIF is what filename I gave it upon making it. Also, it's a soft G.)

31. CROTCHSHAKE.gif
30. DISAOOEAERU'.gif
G/O Media may get a commission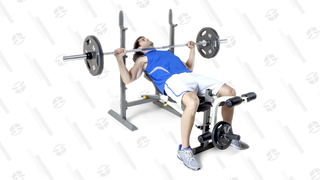 10% Off
Marcy Folding Weight Bench
29. JAMEIS-11.gif
28. OH-YEAH.gif
27. POPCORN-2.gif
26. ALL-HELL-BREAKS-LOOSE.gif
25. SERGIO-WINS.gif
24. CEE-LO.gif
23. KEMBAWALKER.gif
22. DEMPSEY-BITCHFACE.gif
21. YOURE-NOT-HELPING.gif
20. CHRIS-CHRISTIE_JERRY-JONES_HUG.gif
19. HUNTOI2.gif
18. DANTONIO-HOW.gif
17. FLOWER-PUNCH.gif
16. PUNCH-DERP.gif
15. RUNAWAY-GOLF-CART.gif
14. BEARS-POLE-GUY.gif
13. BERMAN-DEMON.gif
12. ODB.gif
11. REARRANGED-FACE.gif
10. GEOFF-WARD.gif
9. THE-MORTIFIED-PUNTER1.gif
8. DENARDFACE.gif
7. ROCKY.gif
6. BOB-LEY.gif
5. LOLAKERS.gif
4. LOLORBIT.gif
3. FRANCESA.gif
2. original.gif
1. DREWDANCE.gif
¡Adiós!