Inevitably, you've got a holiday party or two left to attend (unless you wriggle your way out of it), and it's only right to bring something for the host. Booze is the easy option, and it's by no means a faux pas as far as gifts go. But it's also the lazy option, so here, we offer you some more creative ideas.
Flowers or some kind of plant life. This might seem obvious, but flowers are always a nice gesture. It takes a little more effort than grabbing whatever bottle of pinot is at the front of the store, and they really brighten up a room. It's almost Christmas, so you can buy poinsettias literally anywhere; if you are worried that flowers are too feminine, then buy some succulents, which are the best, in part because they're very easy to care for.
Books: Books are great because they ideally come with a thoughtful, personalized explanation as to why, specifically, you thought to bring that book to that host. Coffee-table books are pricier, but perhaps ideally here: Tell me you don't love this collection of underwater dog pictures. Or this book of 1,000 dog portraits. I dare you.
Food: Food always wins. Believe that. You could bring a plate of fine cheeses. You could bring some of that Williams-Sonoma peppermint bark people kill each other over around this time of year. You could send over a box of Royal Riviera Pears from my personal favorite purveyor of fruits and seasonal foodstuffs, Harry and David. If you're coming from out of town, bring something representative of the place you're coming from. If you're visiting from New York, bring a dozen bagels. If you're visiting from Texas, bring a dozen tamales. You could even go to the trouble of baking a batch of fudge, or some other homemade good. You can bring dessert no matter where you come from.
G/O Media may get a commission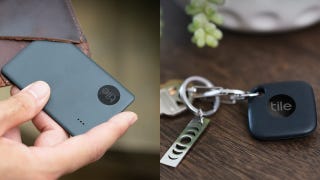 Up to 35% off
Tile Item Trackers
Assorted trinkets: Come bearing a little item like these silly little Christmas cheese-spreaders for a party at someone's mother's house. Or perhaps a nice wooden cutting board. A Christmas ornament is a nice gift for most Christmas-celebrating people, and you can tailor them to specific tastes and themes to make you seem like a thoughtful and appreciative partygoer. Hand towels, trivets, a candles, hand soap and lotion sets, picture frames ... all fair game. Just remember: Never regift. At least, don't do it in an obvious way. You're better off just bring booze.