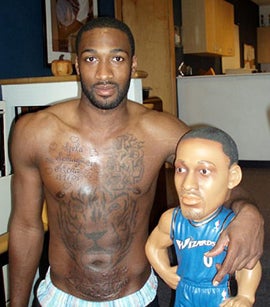 Gilbert Arenas created a bit of a stir around the blogosphere when he "borrowed" material from a professional comedian last week. Well now he's firing back at his critics and his material is funnier than that of any comedian I've seen since Demetri Martin's last stand-up special. I'd love to block quote the entire entry but I'll just include a brief highlight in this space.
Yeah, you've all been talking about it. I used someone else's joke. What's the big deal? I thought it was funny, I blogged it, you all laughed.

Mission accomplished.

Listen, nobody even heard of Ian Edwards before me. He's no Chris Rock. I helped him become famous. Now everybody is going to YouTube and looking him up.

The joke was worth about $7 when I heard it, now that I've used it's probably worth a little bit more. I'll sell it back to him for $7.78. Seventy-eight cents, Ian, you can put that in a royalties check made out to me.

Puffy and Ashanti made careers out of stealing other people's beats. This is America, the land of the reused.
Do you know those advertising posts that run on this page every Friday? Well as it turns out Will's been stealing all of those lines from movies. The horror
Gilbert Arenas: I Got Jokes
It's Never the Offseason In the Mind of Gilbert Arenas