You thought New Mexico's Elizabeth Lambert was tough? Wait until you see the next generation of female soccer hooligans who will take over America with their very unladylike football skills.
The Rhode Island state soccer championships were apparently played in the Thunderdome yesterday, as the final between Tolman and Woonsocket ended a bit earlier than scheduled after a bench-clearing, hair-pulling brawl broke out on the field. Woonsocket was leading five to zip when Kristen Cahill got into a little dustup with Tolman's Maria Lopera and things just went down hill from there. Even better, there was another brawl during the post-game medal ceremony, this time involving the fans of the two schools up in the bleachers. Now that's fucking soccer!
I think someone needs to put a stop to these hyperviolent soccer girls before they make all the soccer-playing boys in this country look like a bunch of weak bitches.
G/O Media may get a commission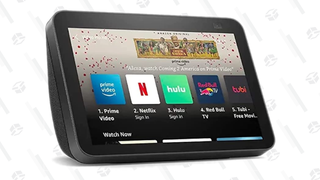 Fights break out at HS soccer game [WPRI]
Let's Get Ready To Rumble [Unprofessional Foul]
Previous: Elizabeth Lambert Is Now America's Greatest Villain