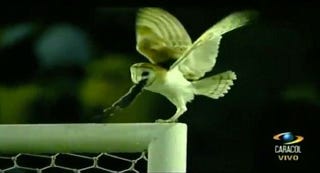 "A white owl was seen chowing down on an unfortunate rodent right on the edge of the crossbar in the Metropolitan Stadium." The meal took place at halftime of an eventual tie between Colombia and Venezuela in a South American World Cup qualifier. Oh, and there's video, too.

h/t tomuban
Owl eats rat on crossbar during Colombia 1-1 Venezuela [Metro UK]
****
Thanks for your continued support of Deadspin. Stick around for Sunday Night Football.