As Jose Altuve strode up for his fifth and final plate appearance in Game 2 of the ALCS, Fox panned to the crowd, a mass of fans in orange, with phones in front of their faces. The game wasn't on the line; Boston was already down by seven and had shown very little signs of life in the previous 16 innings. This wasn't a pivotal moment, but it was Altuve, and after going yard thrice the day before, it seemed possible—more possible than his .346 average in the regular season—that he was going to do something worth remembering, something to share, something to say, I was there. It was perhaps the highest compliment Altuve could be paid.
That's why people go to sporting events, right? The chance to bear witness to history, and maybe eat a few hot dogs. As smartphones have become the norm, the consensus impulse to record what may happen has become, in a sense, a stable barometer of the passion of a fanbase.
I understand if you find it aggravating when a crowd lifts up the phones, taking photos or videos and possibly blocking your view. I understand if it bugs you just watching on TV. Can't anyone live in the moment? Isn't it special enough stored in the folds of your memory, passed along orally to envious friends and relatives and shared with fellow attendees? I understand this, but when I see images of people with their phones ready and rolling, I don't see a bunch of detached assholes. I see them as engaged and fully aware of the stakes; those crowd shots something akin to modern-day equivalents of renaissance paintings, archival depictions of the human condition.
I was there and here is proof is currency, and when the camera pans to a crowd of people peering over their phones rolling just in case, they're showing what people want to see, what people can imagine, and declaring who, in this case Altuve, is worthy of their faith.
Usually the cameras come out in the case of something like a no-hitter or a pending milestone or the end of a legendary career. Displays like the one Astros fans offered for Altuve on Friday fall in the somewhat-rare genre of "just in case."
G/O Media may get a commission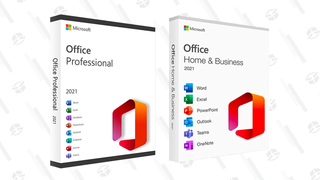 89% off
Microsoft Office Professional 2021 Lifetime License
There's almost an art to it. Some fans decide instead to hold their phones in front of their eyes and watch the game through their screen, which, okay, is a little distressing. But most who are considerate enough to recognize they're not the only people in the ballpark hold their phone or camera as close to eye-level as possible without blocking their own sight.
It's a perspective that only they can record. It may not be the closest seat to the field or the best line of sight, but it is theirs.
I asked some friends if they take photos and videos at ballgames, and my friend Daniel Victor said that at a Phillies game on September 26, the crowd, himself included, reached for their phones for all of Rhys Hoskins's at-bats.

"I saw Hoskins after he had started to slow down, but still, seeing at least one HR out of him felt so inevitable for a while there. Normally I wouldn't get the camera out for every pitch, but with him it felt so likely? There's definitely something to that idea, when someone is so hot people start recording every pitch. I wouldn't even do that with Bryce Harper."
In this video, you can hear Dan say, "it's gonna happen," then it doesn't.
Recording all of Hoskins's at-bats is an expression of pure hope, informed by what he did the day (or week, or whenever) before. But no two days are the same in baseball, and that's the fun of it.

In the case of this photo from Cleveland on September 12, a historic win-streak was on the line. They'd won 20 games, and this night was going to be the 21st. While in any at-bat there are innumerable outcomes, in the case of a game outcome, there are only two possibilities. But that binary doesn't make it any less special, when the outcome goes your way.

Take, for instance, this video of the final out of Jordan Zimmermann's 2014 no-hitter (for those sensitive to rapid screen motion, take caution):
Zimmermann was the first pitcher to throw a no-hitter in the 10 years of Nationals history. He had 10 strikeouts and was a lone walk away from a perfecto. This video barely shows you any of that, instead appearing more like a mix between the Zapruder film and some Cloverfield cutting-room floor effects. It doesn't show you the game, it shows you what it's like to be there.
Most videos of celebratory events wind up looking like this; if Christian Yelich's ball (that's Yelich, in case you didn't catch it off the video) against Zimmermann had fallen for a hit, it's likely the file would have been deleted instead of uploaded to Youtube.
That's what I find funniest and most touching about the instinct to whip out a phone or camera: It's highly unlikely that you, a layperson slumming it with us in the 300-level—or wherever—will shoot a better photo than Getty or the Associated Press or a better video than off the broadcast. It's emotion versus accuracy. It's how we feel, versus what we see.
I would also wager that the vast majority of photos or videos taken of a notable "event" (factoring out those that end up capturing something routine, or boring) fall to the recesses of our memory cards and hard drives. In time, photos of the end of a no-hitter become like vacation photos, you post a few, you use them as a visual aid when relaying the tale to a friend or family member who wasn't there, and eventually they become a minor accessory to the memory itself.
As another of my pals, Jen Rizzo, said to me: "I remember putting my phone up for Buster's AB in 2010 and I never looked at it ever again. I wouldn't even know how to find it; maybe it's on an old hard drive somewhere?" That's not the only photo she's misplaced. "I'm sure that 640 x 480 photo on my Motorola Razr from $4 seats at Shea for Barry [Bonds]'s 2006 AB was WONDERFUL."
I asked Stefanie Gordon, about taking her own photos at the ballpark. Unlike me, Stef uses a real camera, and I've seen her a couple times post her photo of Derek Jeter in his celebratory pose after hitting a walk-off single in his last at-bat at Yankee Stadium.
I asked Stef to tell me about her photo (and some she took the night Mariano retired), and she said:

My favorite player's Yankee Stadium career was over. I have photos of him being mobbed by his teammates. I was so focused on the moment that I didn't realize that Tino Martinez, Bernie Williams, Gerald Williams, Mariano Rivera, Jorge Posada, Joe Torre and Andy Pettitte were standing back by the dugout, waiting for him to join them. My brother tapped me on the shoulder to draw my attention that way. Like the season before with Mariano, I took photos of Jeter heading back to short, to collect his feelings and a little dirt. But that celebration photo is definitely one that I need to frame.

I've seen many historic moments in the Bronx, but being able to attend two of my all-time favorite baseball players' last games at Yankee Stadium and having the photos to remember them by is on another level. I took these photos with tears in my eyes, but I'm now able to look at them and smile.
I think that's just it: "I took these photos." They are mine, even if the event was shared with 50,000 people in the ballpark and millions more watching on TV.
Baseball is designed for this phenomenon in a way that other events aren't. During a concert, a band (or rapper, DJ, whatever) is likely to improvise or change things up; without concert-crowd videographers and Twitter how would we know, like, half of the weird shit Kanye does? Steph Curry can pop off on basically any play he's on the court for, making it pretty tough to pin down exactly when you want to whip out that phone. And Aaron Rodgers launched that Hail Mary down the field because of the Packers' circumstances. Everyone in the stadium knew that it Rodgers was going to go big or go home, truly, and that was it, it was the time.
Baseball, conversely, allows you to be a bit more selective. It's why we see these shots during meaningless Altuve at-bats or with Hanley Ramirez up with the bases loaded in a one-run game. But unexpected outcomes are fundamental to to the game. So while I would wager that a number of fans captured Altuve's second and/or third dingers during Game 1 of the ALDS, Diamondbacks fans in Los Angeles probably didn't have their phones poised when Jeff Mathis hit his home run off Clayton Kershaw over the weekend. And though people probably got some good shots of Hanley's hit, very few went home with their own souvenir of Mookie Betts's home run–robbing catch that kept the Astros within reach, and changed the tone of the game.
And all those fans who whipped out their phone for Altuve's final at-bat on Friday? They got some nice video of him striking out swinging. Ah well, you can't predict baseball. If you could, it wouldn't be worth capturing.