We've come so close these last few years to witnessing something truly spectacular, a season-long performance of such improbable greatness that it sows hope in the hearts of fans and neutrals alike, proving that there can be something more to success and failure in the Premier League than the mere accounting of transfer fees spent and salaries outlaid. Yet every time a relatively smaller team that's supposed to content itself with being along for the ride has come close to a reward typically reserved for their superiors, the status quo has reasserted its authority, thwarting everything the run stood for.
Take last season, when Southampton fought valiantly deep into the season for a Champions League spot only to succumb to the big teams by the end. Or when Luis Suárez and Daniel Sturridge almost danced and scored Liverpool into a shock EPL title, only to (literally) stumble at the least opportune moment and blow it. Or a couple years before that, when Gareth Bale transformed into one of the game's titans, putting all of White Hart Lane on his back and dragging them into fourth place, only for an awful Chelsea team to steal Spurs' Champions League spot by fluking their way into a European Cup. (Well, that last one was more funny than tragic.)
Now, with Leicester City on the cusp of an even more impossible accomplishment than of those would have been, if we really are to hold our faith in God's ability to perform miracles and His commitment to protecting the poor and bequeathing the Earth to the meek, Leicester must finish the journey and become champions.
Luckily, things continue to fall in the Foxes' favor. Though they failed one of their biggest tests yet in the head-to-head loss to Arsenal a few weeks ago, recent results have gotten them back on track. This weekend's biggest match pitted the Gunners against title rivals and hated crosstown foes Tottenham in an enormous game that would go a long way to determine the fates of the two teams on the pitch as well as the league title as a whole. An Arsenal win would thrust them back into the thick of things after a couple recent trip-ups, while a loss could have spelled the end of any realistic hope for them to grab hold of that ever elusive title. A win for second-placed Tottenham would probably have made Spurs slight favorites to go ahead and win the league. Rather than either of the two historically star-crossed teams taking the initiative and earning the win, though, the match ended in a draw that did nothing but give Leicester even more breathing room at the top of the table.
Leicester, by contrast, did seize their opportunity to burnish their title credentials this weekend by squeaking out yet another hard-fought win against a tough opponent prepared to make life as difficult as possible for the league leaders. And so with nine matches to go, Leicester are five points up on Spurs and eight points above Arsenal. (Assuming Manchester City—remember them, September's huge title favorites?—win their game in hand, they will sit seven points back of Leicester.) Leicester's remaining schedule isn't that tough (they only face two teams in the top seven), they're free to focus their entire efforts on the league (while Tottenham's Europa League obligations could really come back to bite them), and they only have to hold on for a couple months longer to pull off this historic coup. It wasn't too long ago that we wondered whether it was even conceivable that Leicester could keep it up for a title win; we're now getting to the point where what once seemed impossible is beginning to look likely.
G/O Media may get a commission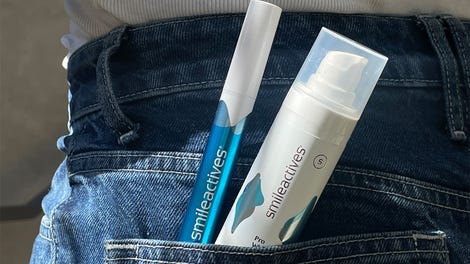 58% off
Whitening Powerhouse Pen & Gel Duo
It's the specifics of the organization of international soccer that make what Leicester are threatening to do so remarkable. The open, free market economic system of soccer is quite nearly the ideal structure for operating a sport. Teams are limited only by their own bank accounts in their ability to pay as much money as they can to sign the best players in the world and have them coached by the best managers, and thus cultivate the strongest teams possible. The most successful, richest clubs buy the best players for huge sums in transfer fees and contract terms. The best young players go directly to the clubs of their choosing, usually to the biggest and richest ones that have demonstrated the ability to foster and integrate budding talents. The path to success is clear: spend money at higher rates and/or more intelligently than your rivals, and win.
Unlike in American sports, there are no salary caps in European soccer to artificially constrain what teams can spend to improve; there are no faux high-minded ideals of amateurism to prevent young players from earning money commensurate with their talent and promise; and there is no reverse-order draft to gift the worst teams the best future prospects. The methods of enforced mediocrity in American sports sacrifice the ability to construct truly great teams at the altar of parity—an often illusory virtue that the public professes to value more than it actually does in practice.
Soccer's system, as unfair as it may seem on the surface, is good and right. And it's precisely because of how fair and purely hierarchical the game is that Leicester literally flipping the league table upside down—remember, these guys were still rock bottom in the league at this time last year—is such a feat of wonder. The sport's very structure is designed to make the prospect of a little team like Leicester—whose entire starting XI cost less in transfer fees than Tottenham spent on Érik Lamela; whose squad's salary expenditure is one fourth of Arsenal's—even competing for a top spot in the table nearly impossible. And in spite of all the odds stacked against them, that they've still managed after 29 games to sit astride the richest league's table as its best team is too stunning to put into words. That's why this has got to happen.
Calling Leicester favorites at this point is probably correct but also sort of meaningless. As we've seen week in and week out of this season of madness, the odds drastically shift practically each time the contenders take the pitch. A bad couple days' worth of finishing, two or three referee decisions going against them, teams continuing to follow the blueprint to stifle their tactical set-up, a key injury here or there (and Riyad Mahrez did appear to grab at his hamstring before being substituted at the end of the Watford game, though apparently it was no big deal), and Leicester could quite easily drop points in a few of their remaining games. A late-season collapse would seem unlikely, but then again so is Leicester fucking City being in position to win the Premier League in the first place.
Though we be nonbelievers, it's hard not to look at the form of Leicester's season and not see the contours of the Lord's handiwork. As difficult as it is, we want to believe in Him and that all things are possible through His love and favor. But we also thought He had touched Gareth Bale so that the Welshman could bring Spurs Champions League glory and by doing so testify to His omnipotence, only for them to be ruelly robbed and for Bale to be sent away to wear the white shirts of the devil's army. We believed Luis Suárez to be another of His messengers, tasked with resurrecting the once mighty, now humbled house of Liverpool. This was ... probably always mistaken. That book ended with a wicked spirit invading Steven Gerrard's body and casting him to the ground to the elation of the Antichrist himself, José Mourinho.
Either the Lord doesn't exist and these crushing comeuppances have been simply the natural order of the sport eventually catching up with these outliers, or He has for some reason seen fit to send us an increasingly depressing array of soccer Jobs. What lesson He could be trying to impart, I couldn't say. All I do know is that in these dark times, we could use a bit of hope, and a Leicester title would be a fine rainbow to remind us once and for all that He is in fact watching over us.
Photo via Getty
---
Contact the author at billy@deadspin.com.