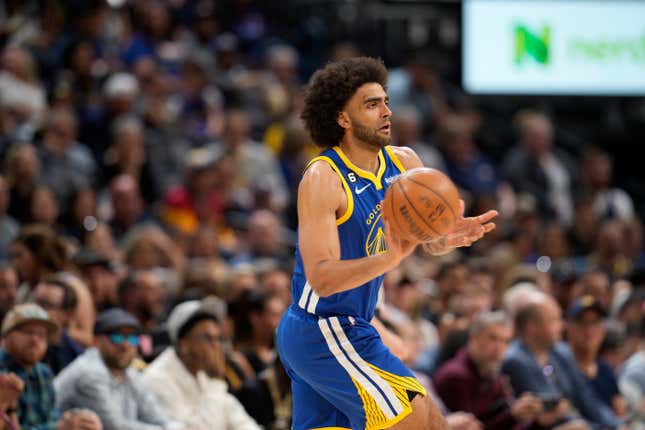 When the Golden State Warriors converted Anthony Lamb's contract for the rest of the season back in March, head coach Steve Kerr called it a "pretty easy decision" as the team has dealt with injuries, absences, and poor bench play — especially on the road.

Can the Florida Panthers make a comeback? | Agree to Disagree
"We definitely needed another wing with size to guard multiple spots," Kerr told the media at the time.
But regardless of the 25-year-old forward's contributions on the court, Lamb was accused of sexual assault in a civil lawsuit filed in Vermont back in December. (While Lamb's actions are detailed in filing, he is not named as a defendant in the civil suit and hasn't been charged with a crime.)
Lamb denied the allegations, saying, "Simply put, I have never committed sexual assault." And Golden State GM Bob Myers said he checked with Lamb's previous squads — the Houston Rockets and the San Antonio Spurs — before inking him to a deal. As if that has ever worked.
"Anthony is not a defendant in this recent lawsuit and, to our knowledge, he has never been charged with any wrongdoing in any legal case," the Warriors said in a statement to SFGATE in December.
But as expressed in a piece on Awful Announcing by a freelancer who goes by @Velodus on social media, the silence is deafening. 
About the lawsuit
In the suit, Kendall Ware, who was a swimmer at the University of Vermont, alleges that Lamb, a star on the Catamount's basketball team, raped her in his room during an off-campus party.
Ware also alleges that on one occasion, Lamb removed a condom during sex, and another time filmed her during sex without her consent. According to the suit, she reported the alleged incidents to the school's Title IX office.
Ware and two other female plaintiffs are suing the university — along with individual administrators and staff — due to "deliberate indifference to student-on-student harassment, sexual assault, and drugging."
There are detailed allegations of Vermont improperly handling Ware's accusations in order to protect a team that likely would have qualified for the NCAA Men's Basketball Tournament if not for the COVID-19 pandemic.

Athletic Director Jeff Schulman and other employees are alleged to have "steered" Ware away from "filing a formal complaint under the university's Title IX procedures and misled her about the available remedies, as well as the potential consequences for Lamb."
Back in May 2021, more than 1,000 students marched on campus to protest the school's handling of sexual assault cases and to support survivors, the Associated Press reported.
And while the Warriors claimed to do their due diligence on Lamb, Ware's attorney Karen Truszkowski said the team never reached out to her or her client.
Systematic injustice
This situation is saddening, yet still poignant, example of a systemic problem.
According to the CDC, sexual assaults against teenage girls increased during the COVID lockdown. Per a Michigan study, emergency rooms are seeing more people coming through the doors saying that they have been sexually assaulted, but that increase does not match the number of victims who actually file a complaint. According to the Rape, Abuse, and Incest National Network (RAINN), only 20 percent of college students who have been raped will report the crime to law enforcement. In the general population, for every 1,000 cases of sexual assault, only 310 will be reported to police, and only 28 of those cases will lead to a felony conviction.

Much talk has been done post guilty verdicts of Harvey Weinstein and Bill Cosby about how society needs to improve in the way that it deals with sexual assault. Enter "sexual assault," into Google right now and you will likely be startled by the results. It's a problem so pervasive that it has found its way to the Warriors' bench.

That franchise can claim that it took all the necessary steps before making the decision to sign Lamb, but a team with that type of wealth should clearly explain what it considered to be "due diligence."

Yes, Lamb is a player who will likely receive little playing time during the postseason. Andrew Wiggins is back with the Warriors, although he did not take the floor during their 136-125 Tuesday victory against the Oklahoma City Thunder. Lamb started but only played 12 minutes — none during crunch time.

Maybe the Warriors' defending a player that low in their healthy rotation sends a message that this "progressive" team owned by a venture capitalist deserves little to no moral high ground.

Or maybe, these allegations are a reminder that systemic injustice is always present... It sure would be nice if the NBA could deliver that reminder in teal with a straight face.
April is Sexual Assault Awareness Month and that sounds like a good cause the NBA should take up, a la the NFL and breast cancer awareness.