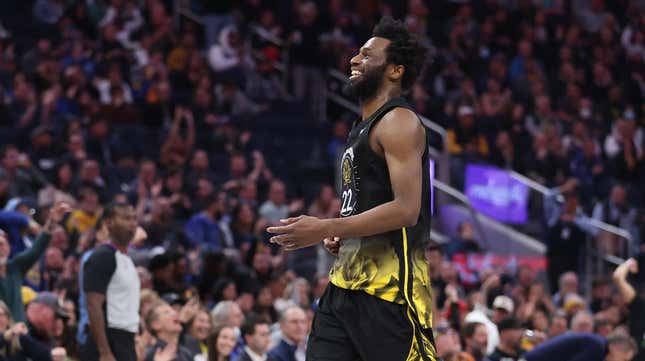 On Monday afternoon, ESPN's Adrian Wojnarowski broke the news that Golden State Warriors forward Andrew Wiggins is set to make his return to the team later this week. So many rumors and "reports" had been tossed around regarding Wiggins' immediate future with the team that it was hard to know what to believe.

How Andrew Wiggins poster on Luka ended the Mavs
Following the news of Golden States' All-Star's return came a tweet from Shams Charania which stated the reason (which everyone was so eager to find out) Wiggins had been out so long. It was a medical issue concerning Wiggins' father, according to sources. So, all that other nonsense you've heard or read online isn't true. Most of it didn't make sense anyway.
Now that everyone knows the reason, we can leave it alone unless Wiggins wants to discuss it publicly. Wiggins and his family didn't want everyone in their business initially (which is their right), but some of you just couldn't help yourselves. Especially some San Francisco media and shows like "The Morning Roast" on 95.7 The Game. There's no need to prompt the entitled portion of the fan base to call in and help you speculate about why he's out and all that other nonsense that went on.
It's always funny how some of these yahoos get on the radio and spout off about this and that, then when they interview the athletes they slander on-air, they start back peddling like an NFL cornerback. They want smoke in a soundproof room (or on social media) by themselves, but when the wind blows back at 'em, they've got nothing to say. Jordan Poole had apparently had enough of it recently and confronted a particular radio/tv individual (because he has no personality) in the bay area, who had very little to say in response.
Hopefully, Wiggins' decision to come back now is based on his wanting to do just that, and not because of outside pressure and the gossip that's been floating around about his personal life. Give credit to the Warriors, as they've given Wiggins all the time and space needed while dealing with this family matter.
With Wiggins returning to the lineup just in time for the playoffs, there's no way the Warriors should be counted out, even with all their road woes this season. Wiggins, Draymond Green, Gary Payton II, Klay Thompson, and Jonathan Kuminga make Golden State more formidable defensively. We know what guys like Stephen Curry, Poole, and Thompson bring on offense, but the defense (especially on the road) is where they've struggled this year.