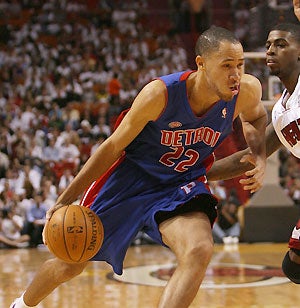 • What's Gotten Into Tayshaun Prince? There's only one way to explain the Piston's opener on Thursday: Tayshaun Prince was bitten by something in the woods, and became Teen Wolf. Prince scored a career-high 34 points, and collected 12 rebounds (!), as Detroit beat Miami 91-80 in the season opener for both teams. The Pistons were even playing without Richard Hamilton, who was absent due to "a family matter." Prince was 13-for-23 from the floor, and Chauncey Billups had 19 points. Shaquille O'Neal? Just watchin' (six shots, nine points). The Heat was also without Dwayne Wade (recovering from several surgeries).
• Here Comes The Sun. Seattle's home opener was a sellout, with fans refusing to come to grips with the name Oklahoma SuperSonics, which will be coming next year. Amare Stoudemire had 23 points and 11 rebounds to lead the Suns to a 106-99 win. Steve Nash had 18 points and 12 assists, and Kevin Durant had 27 points for Seattle.
• Tracy McGrady Eats Babies. Remember when Utah beat Houston in the opening round of the playoffs last year? Those were the days. Now, Tracy McGrady swats Jazz players like gnats. McGrady's 47 points led the Rockets over the Jazz 106-95. And so the Rick Adelman Era begins 2-0. He may never lose.