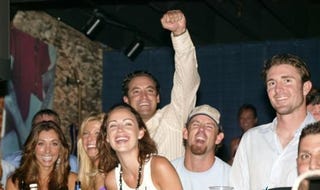 Geoff Geary was (briefly) a serviceable bullpen arm for the Phillies, but the poor guy's confidence just went to shit. Luckily, The Fightins traded him for Brad Lidge and the rest is World Fucking History.
Sports By Brooks brings us this story from the Houston Chronicle, where Geary shares his feelings about being traded from the Phillies, watching his buddies hoist the trophy, and coming to terms with the harsh reality that he, too, could have been part of one of the greatest moments in Philadelphia sports history had it not been for his colossal sucking. But of course, as most papers not based in Philadelphia are wont to do, the writer asked Geary about his experiences with the notoriously "passionate" Philly fans:
"My last year before I got traded, there were fans who were threatening my life and threatening other people, saying they were going to follow me home and beat up my fiancée at the time. Most of the fans are supportive, but the drunks and the people that are obnoxious, those are the ones that are like rabid dogs."
Alas. But he still wishes he could have been there.
"Everybody says when you win the World Series, you basically own that town for a while," he said. "I don't need to take advantage of that situation, but it would be really cool to be sitting on a soapbox, looking down with 25 of your best buddies and saying, 'Yeah, now what? Say something negative about me now.' "
You Mon-Chee-Cheei-looking...Nah. I got nothing. World Fucking Champions.

Parting from Phillies Bittersweet for Geary [Houston Chronicle]