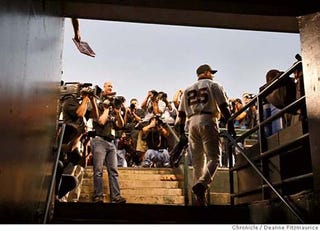 Rick Chandler, San Franciscan, Giants fan and associate editor of this here site, muses on Barry Bonds' last home game as a Giant.
And so Barry Lamar Bonds is a Giant no longer. He made his final appearance at AT&T Park on Wednesday, making three unremarkable outs and then departing a bit prematurely in the seventh inning, like Professor Marvel in his hot air balloon. Barry! You were supposed to take us with you! Sigh. All that's left is Eugenio Velez in left field and an ache in our hearts. And Barry now heads off to that place where all creaky, formerly great players go ... the Yankees.
Willie Mays and Willie McCovey were in attendance on Wednesday, and Bonds fans milled about like excited munchkins, holding enormous signs and cheering their hero. Meanwhile, at the Federal Correctional Institution in Dublin, Calif., it was Unlimited Dessert Night, and Greg Anderson had three helpings of lime jello. It is unknown whether Bonds' former trainer was allowed to watch the game, which the Padres won 11-3. Sometimes they only let you watch one channel in the TV room, from what I understand. I just hope it wasn't the Democratic debate.
Anderson is in the slammer for refusing to answer grand jury questions on Bonds and steroids; a scene that they omitted from the Bonds tribute video that was shown in the stadium following the game. To me, the real fitting tribute would have been a montage of times that Barry failed to run out ground balls, but I realize that there were time constraints. Whew. Was it really 15 years ago that Bonds arrived at Candlestick Park, comparing his talents as an entertainer to those of Michael Jackson, and wearing a size 7 1/3 cap? From a business standpoint, Bonds may have saved baseball in San Francisco. From a moral and practical perspective, he may have destroyed it for years to come. Yes, when it comes to Barry, "You have my statement." Even though I'm a lifelong Giants fan, I've never liked the guy. Put that in your syringe and smoke it.
But now what? I think that for many of us, we've lost our archenemy. Who is Holmes without Moriarty? Luke without Vader? The Meeces without Mr. Jinx? I have all of this cardboard and paint around the house and no one to mock via signage! I feel a little empty inside, and it's not the Colonblow. Goodbye, Barry. I hated you, and loved every minute of it.
Quiet End To An Era [SF Gate]