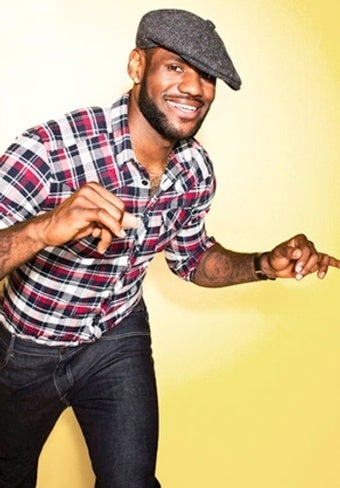 Every morning, the fine folks at Sports Radio Interviews sift through the a.m. drive-time chatter to bring you the best interviews with coaches, players, and personalities across the sports landscape. Today: GQ writer and LeBron James chronicler J.R. Moehringer.
J.R. Moehringer's LeBron James profile in the September issue of GQ was one of the most highly anticipated magazine stories in quite some time. James became a villain this summer when he left the Cavaliers for the Heat, but the shouting seemed to dissipate until it leaked that in an upcoming GQ profile, James would claim to have always hated Cleveland. Moehringer stopped by 790 the Ticket with Jorge Sedano and discussed what he thinks of LeBron and what he thinks LeBron thinks of LeBron.
On whether or not he feels LeBron was trying to recreate his time in high school by joining the Heat:
"I actually think it's the overriding factor. I do think he wants to win, but I think this is more than just a factor. I think his desire to recreate this golden moment in his life, the happiest four years of his life, this time when he felt safe, confident, indomitable, I think this decision to go to Miami is a clear attempt to recreate that time. It's more than a factor. It's one of the driving forces in the decision."
On how he feels about people saying LeBron is immature:
"I disagree. I think that wanting to be happy, if that's immature than maybe immaturity is healthy. I think some of the older players who've criticized him can't understand putting personal relationships and friendships that high on your list of priorities. Do we really think that (Charles) Barkley cared about playing with friends or (Michael) Jordan? That wasn't their priority. They were maybe a little more ruthless. Their priorities were ordered differently. That didn't mean that LeBron was immature. It just means he views life a little differently and I think this emphasis that he puts on personal relationships like trust, loyalty, and friendship, it makes him likeable on a one to one level. It feels kinda crazy to call LeBron likeable right now since the whole country is trashing him and rolling their eyes at him. But he is. When you're sitting with him he's a very warm guy, and he's a very engaging, likeable fellow. I think part of that comes from the emphasis he puts on people. Who he surrounds himself with is paramount to him. I don't think it's immature and I don't think he's trying to revert to high school. I just think that he's just trying to recreate a winning formula that was so successful for him in high school and he's trying to recapture a feeling. This is just a guy that says basketball used to be fun. What can I do to make it fun again? Maybe I will play with guys who I trust, that have my back and whose talents compliment mine. If that's immature than I don't see it."
On whether or not he thinks LeBron needs to think more on his own:
"That's my theory. This seems to me to be a case where he let the people around him whom he trusts, he let them put him in a very bad situation and he just didn't think it through. Going forward he's going to have to think of things on his own. He's gonna have to separate himself a little bit from the people around him and not just take what they tell him at face value. I think he's a smart guy and I think if he had taken a few moments quietly by himself in a room sitting in a chair and thought an hour long special devoted to me, live television, announcing to millions of fans that I'm not going to be playing for their team, maybe that's not the best idea. I think he would've seen it. I like to think that. In the future he's going to have other decisions to make, I hope he realizes he needs a different decision making process."
Photo via GQ
This post, written by Chris Fedor, appears courtesy of Sports Radio Interviews. For the complete highlights of the interview, as well as audio, click here.
More From Sports Radio Interviews