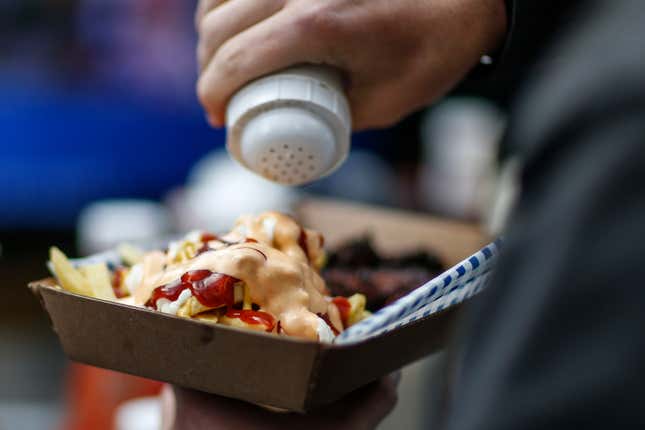 For almost two years now, we've all (well, sensible folk anyway) been worried about a global pandemic. Amid something so widespread like this, other health factors or worries might have gone under the radar as a result. One of these health factors is the safety and hygiene standards in those NFL stadiums we all love attending on Sundays, Mondays, and Thursdays in the fall.

Mahomes or Hurts? Who will win NFL MVP? | Agree to Disagree
With data from Hazel Analytics, Pickswise conducted a study to assess health inspections from 25 NFL stadiums over five years, beginning in September 2016 and ending in October 2021. Data for MetLife Stadium, Gillette Stadium, FedEx Field, and AT&T Stadium were not available for this study. The findings are parsed into three categories, the number of critical violations, the total number of violations, and the percentage of critical violations per stadium.
There are over 2,500 distinct local health departments across the United States, with varying levels of enforcement behavior and leniency/strictness in scoring. This means that some NFL stadiums reside in jurisdictions where their local health department may conduct inspections more frequently and cite more violations when doing so. Therefore, the discrepancies between teams and their scores are due to different grading criteria from one state/jurisdiction to another.
Bank of America Stadium (Carolina Panthers) came in first with 393 critical violations and had the third-highest critical violation percentage of 55.04. Raymond James Stadium (Tampa Bay Buccaneers) lapped the competition with 1,714 total violations. TIAA Bank Field (Jacksonville Jaguars) came in behind Tampa Bay in total violations with 740. Two of the three NFL stadiums in Florida ranking so high in the total number of violations is an attention grabber. Florida was also one of those states that didn't care much about COVID-19 last year and pretty much refused to shut down anything.
On the other end of this list, we can deem these franchises part of the clean team: NRG Stadium (Houston Texans), Mercedes-Benz Stadium (Atlanta Falcons), and Caesars Superdome (New Orleans Saints) all came in with under 5 critical violations. That is remarkable compared to the other stadiums in this study.
Less than half of the 25 stadiums included (11) had triple-digit critical violations. Four stadiums had more than 50% of their violations classified as critical, with Denver's Empower Field ranking the highest 94.09%. Behind them is Seattle's Lumen Field, with 77.48% of its violations being critical, then the Panthers (again) at 55.04%, and Indianapolis' Lucas Oil Stadium with 53.74%.
I wouldn't say these numbers shock me as these are huge buildings with many facilities like multiple kitchens/concession areas, public restrooms, locker rooms, offices, etc. I'm sure it is a nightmare, keeping all this in order, but it is enough to make me think twice about that hot dog or beer the next time I'm at a football game.
Parts of this study were conducted before and then during the COVID-19 pandemic. While nothing pertaining to this is explicitly expressed, I'm sure some of these findings could be tied to the pandemic regarding each stadium's cleanliness or lack thereof. I am amazed at the teams and stadiums that ranked the lowest in some of these categories. The New Orleans Superdome registered only 4 critical violations. The capacity of that building is over 75,000, but how they came in with that few critical violations is beyond me. The same goes for NRG Stadium in Houston. The Texans can fit over 72,000 fans in there and only come out with 2 critical violations in a state that showed very little concern for the health and safety of anyone during a pandemic. Just a little food for thought there.
Below is a list of the number of critical violations for each team and you can click here for the entire Pickswise chart which also includes each stadium's performance against city averages.