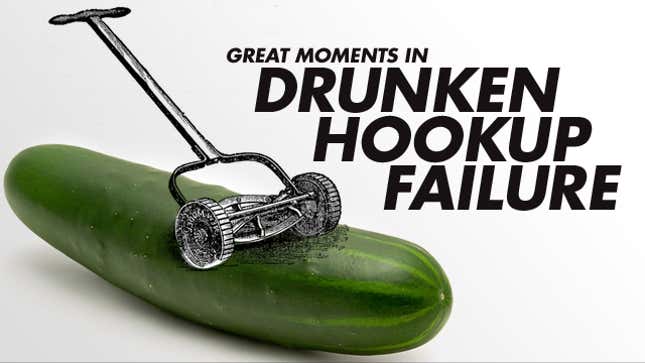 Welcome to Great Moments in Drunken Hookup Failure, where we showcase four heartwarming true stories of drunken love gone horribly awry. Off we go.
Before we get to today's stories, time to throw up the Bat-Signal again and ask for more DHF submissions. Email me right here. Keep it concise, and don't do that thing where you tell me the girl's grade on a scale from 1-10. I don't give a shit.
Jake:
It was my freshman year of college and I had just gotten dumped by my first legitimate girlfriend. Needless to say, I was aching to get any sort of female attention. Enter "Linda." We had a mutual friend who said she liked me, and even though I didn't know who she was, I agreed for her to come over to my dorm to pregame before going out to a big frat party down the street. Linda comes over a few hours later and we made painfully awkward small talk. We made it over to the party, and as I'm making drunken conversation, she grabs my head mid-sentence and starts voraciously shoving her tongue in my throat. REBOUND! THANK GOD

We get back to her dorm a little while later and the clothes start coming off, etc. She asked if I had a condom because she says, "I ran out yesterday." Hmm. I find this a little disconcerting, but I move forward anyway.

As I'm reaching for the emergency condom I had in my wallet since I was 14, she grabs my hand and yells "Wait!...I decided yesterday that I'm going to stop being a whore." I did not quite know what to make of this, but she ended the awkward stunned silence by blurting "How about a hand job?" I figured that since she already called herself a whore that I would be in for the best (and only) handjob of my life, complete with all kinds of new moves I had never thought to use on myself before.

I tragically didn't realize then that the penis is a very simple organ and there's only so much a hand can do. Well, I say OK and she lunges at it. She begins to tug and yank at the thing with all her strength and at an incredible speed which caused such an immense pain that I cannot describe in words. I scream "AHH! Slow down!" and she does, but still keeps up the intensely vigorous tugs. I yelled for her to stop, and we silently laid in bed until we slipped into drunken slumber.

The next morning I wake up to her drinking Tanqueray out of the bottle (a classy lady), and my penis felt like I had sex with a lawnmower. I inspected when I got back to my place, and it turned out she broke the skin in 3 places, all of which left a nice trail of blood leading to a pool on my boxers. They all also left dark scars that are plainly visible to this day 6 years later. Handjobs are the worst.
Indeed they are.
Jon:
I currently live and work in Northern Virginia. On a cold January night, I decided to take a trip into DC to meet up with a friend at a bar and planned on crashing at his place for the night. My friend's girlfriend also joined us and invited out her friend, Lisa, who very much resembled Snooki. As the night progressed and so did the drinking, Lisa began noticeably flirting with me. I avoided this for a few more drinks, and then my friend began pressuring me into hooking up with her. After several more drinks, I agreed with him that it sounded like a great idea, especially considering I was dumped a month earlier and had no luck with other women up to this point. After talking with Lisa for about five minutes, I had successfully convinced her to allow me to sleep at her place, and I informed my friend that I would not be using his couch.

He left the bar with his girlfriend to go to his apartment and I then left with Lisa. After about 10 minutes of walking, we enter her apartment and she gives me the tour. I notice that the apartment is devoid of all furniture other than her bed and I find this quite strange so I ask her why. She immediately breaks down into tears and runs out of the room. I stand there confused for a minute and then begin searching for her since I'm really curious at this point. I find her in the kitchen doing a line of blow off the counter. While still crying, she begins opening up about how she cheated on her boyfriend a couple weeks earlier, got caught, and he took all the furniture.

No better time than now to back out of this situation, so I leave and head back to my friend's apartment. Looks like I'm back on the couch. After about 15 minutes of walking, I realize that I must've gone the wrong way because I don't recognize anything. I immediately begin panicking because its 4am, I'm in a shitty neighborhood in DC, and it's about 15 degrees, so I start calling my friend. No answer. I repeat this a number of times and send plenty of texts until I come to terms with the fact that him and his girlfriend are passed out drunk. After wandering around some more, I eventually find a cab. When I inform the cabbie that I live in Virginia, he asks me to get out because he refuses to drive out of DC. I am not getting out of this cab. So, after some deal making, I'm on my way home with a $45 cab ride and a picture of coked up, teary eyed Snooki burned into my mind.
WTFisJuice:
So this past weekend I went down to Jacksonville to visit a friend in law school. It was his birthday that Friday and a large group went out. He had class so I stayed around his apartment with another friend of ours drinking by the pool. Apparently a full day of drinking isn't the best for you when it comes time to make good decisions, but we'll get into that later. Anyway, after he returns from class we go to the beach for a while, get some drinks and come back to his apartment to get ready for the night. Meanwhile a cute girl, Holly, comes to the pregame and I'm trying to get after her. We hit it off decently well so we continue our flirting out at a few bars. We continued drinking heavily and find ourselves at the strip club.

If you haven't been to Jacksonville, if a strip club serves liquor then the girls can either be topless or in a bikini. No lower parts available. One of the guys we were with knew the owner of the club and we got in free and drinks free. Score. While here, it comes about that Holly has a boyfriend and I won't be getting that tonight.

Well little did I know the guy who's birthday it was bought a dance for himself on my behalf so a girl comes, asks me to kindly pay for his dance. Since I'm pretty dejected about this lack of a hot girl to go home with and obvious lack of nudity at this club, I proceed to ask for a dance. I am shitfaced and can't see straight and really am confused why this girl won't lose her clothes. She explains this ridiculous Jacksonville rule so pissed I demand to know how much it will cost for her to lose her clothes. She tells me its $200 for the champagne room, and I tell her to go fuck herself and offer $100. She agrees and at this point all I've paid for is my friends dance. We get in the room and she locks the door and proceeds to lose her clothes.

At some point our conversation went from her being naked to me fingerblasting her to us agreeing to bang. Well things are getting close and out of the blue there is a banging on the door. The guy outside is yelling that it's $200 for the room. She puts back on her clothes and we go outside back to the side area still in the back of the club. She says it's $200 and I say I'll pay if we fuck. (still have not paid her except for my friends dance). She tells me there are only 2 or 3 songs left before the club closes and I tell her, "That's long enough for me." She agrees to get banged and I head towards the ATM. I take out $200 however the ATM only has $160 in it and I hand that over and the bouncer/her say that's only $160. Well I took that and whatever pride I had left and walked away. Not only did I fail at acquiring trim the old fashioned way I couldn't even pay for sex. I failed all men that weekend. At least I got some Waffle House as opposed to VD.
Dave:
This is not so much a Drunken Hookup Failure as much as a Morning After Nightmare. So I go to a party with some friends and am fortunate enough to hit it off with a pretty cute girl. I manage to convince her to leave the party early with me and head back to my place. We complete the standard DHF routine of attacking each other as soon as we're in the door, sloppily making out, and moving to the bedroom. However, unlike other writers, we actually have sex. SUCCESS! I pass out and she falls asleep next to me.

The next morning I wake up with a rather pronounced case of morning wood, which the girl notices and is into. DOUBLE SUCCESS! She says she'll go down on me, but tells me to let her know when I'm about to finish because she doesn't want a mouth full of cum. I promise to honor her reasonable request, and she commences the BJ. It is important to note that I am laying flat on my back, staring at the ceiling, throughout the process. Several minutes later I am nearing release so I give her the courtesy tap, and she figures she'll finish me with a good old fashioned handjob. I cum, but she happens to be holding my dick at just the right angle that my first and most powerful blast of jizz shoots through the air, over my torso, coming to rest for the most part IN MY OPEN MOUTH.

Needless to say, I gagged in horror and shot out of the bed toward the bathroom so quick I think the girl thought I was insane. I was lucky enough not to experience actually swallowing my own semen (which you've covered before), so I didn't feel the need to make myself throw up, but I did gargle Listerine for the next 10 minutes. When I told the girl what happened she thought it was hilarious, and said something along the lines of "Now you understand why I asked for the courtesy tap." Indeed I do, for semen is a dish best served to anyone but me.
Image by Jim Cooke