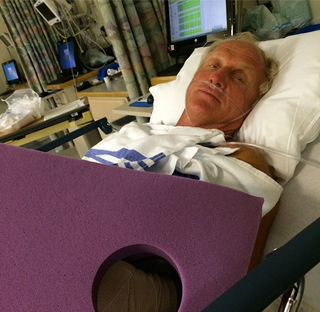 Golfer Greg Norman sliced his left wrist with a chainsaw while cutting trees around his house Saturday, and according to doctors, the cut was very close to hitting an artery.
Norman was at his Florida home trimming branches when his hand slipped and hit the blade of the chainsaw. Via the AP report:
"Thank God the blade wasn't running full speed or it would have taken my hand off," Norman said. "I handled everything as calmly as I could. There is no major damage. There is nerve damage, but no muscular damage. They fixed me up and here I am."
Norman said he'll keep doing yard work after he heals from his injury. He posted a less gloomy photo on his Instagram earlier today:
Photo via Instagram