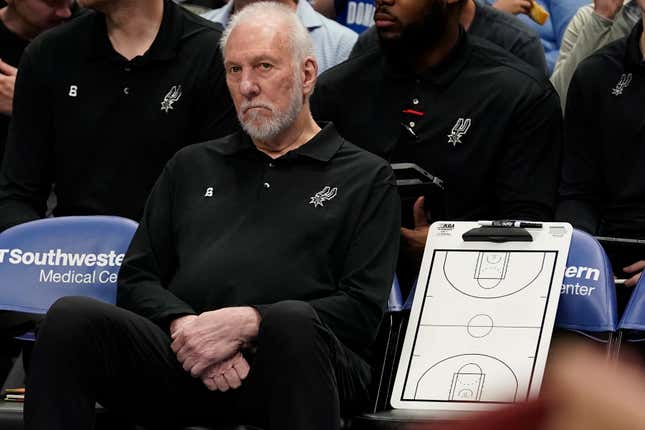 Before the NBA's regular season wrapped up, before his San Antonio Spurs beat the Dallas Mavericks in the finale, Gregg Popovich didn't want to talk about his future. The 74-year-old Hall of Famer brushed off questions about his retirement. Instead, during his pregame media availability, the all-time coaching wins leader shifted the focus to gun control in America, something he hasn't been shy about discussing.
Rainn Wilson's NBA Finals prediction may be in trouble
He asked reporters if any of them were in possession of a firearm at the moment. Of course they weren't because NBA media is required to walk through metal detectors and have their bags X-rayed before getting to the free food and Diet Coke.

"I just wondered because we have a governor and lieutenant governor and an attorney general [in Texas] that made it easier to have more guns," Popovich said.
That was just the start to a nine-plus minute impassioned speech where Pop lambasted Republican legislators in Texas and Tennessee. He went on to call out state and federal governments for their weak response to school shootings, with one occurring in Nashville less than two weeks ago.
On top of that, the governor of Texas wants to pardon a man convicted of murder before his sentence has even been levied. A man who in 2020 murdered another man who was participating in a Downtown Austin George Floyd protest — both were allegedly armed.

Texas Senator Ted Cruz suggested 12 days ago that America should protect its school like it does its banks with armed guards. Unlike your favorite heist movie, an armed 25-year-old man entered a bank in Louisville on Monday morning with no intent to steal. He seemingly entered with the sole purpose of killing people — even livestreaming it on Instagram — in a place from which he was about to be fired. Police eventually gunned down the suspect, who killed five and injured eight.
Less than three full hours later, another American school shooting took place less than a mile from the massacre at the bank. At Jefferson Community and Technical College, two people were shot, one fatally.

Popovich's anger is justified. However, as certain states throughout the union break their backs to make it easier to procure a firearm as gun-related deaths in those states increase — firearms have become the No. 1 killer of young people in America — that righteous anger feels like it is not having much of an impact.

The necessity to endure that discouragement is why defeat must never be acquiesced to, like an NBA team resting its starting lineup on a random Tuesday. Maybe Popovich's basketball team didn't put up the best possible fight to maximize their win total, but less than a full day following his statements about American gun violence six people from this country were murdered in cold blood in the same city.

So as pointless as these articles sometimes feel to me as I rapidly tap the keys on my laptop to put them together, as long as people continue to be harmed the articles will keep coming. Certain Americans will spew out the rhetoric that more guns in the hands of "good guys," will result in a safer country. All while America's gun violence deaths per 100,000 people is nowhere near the fewest among developed nations.

This article is my feeble attempt to make sure that gun violence is not normalized. I get paid whether I write about the Chicago Bears' best options in the upcoming NFL Draft, who is the favorite from the Western Conference to win three NBA playoff rounds, or react to Popovich's pregame comments before his San Antonio Spurs played their regular-season finale.
So I'll keep on tapping about these unnecessary deaths in between my jokes about Mark Cuban and Bill Belichick. At least Popovich will never be able to criticize me when he laments about American failure.