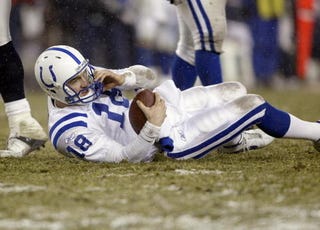 Gregg Williams, highly decorated defensive coordinator of the New Orleans Saints, appeared on 104.5 The Zone's new "3 Hour Lunch" and laid out the WhoDats strategy against Manning: knock him out of the game.
Williams said its vital they get a few "remember me" shots on Manning every time he touches the ball (think:last week's Favre pummeling) which falls in line with his Sun Tzu-like mentality about stopping quarterbacks:
"Here's the deal. When you put too much of that type of worry on a warrior's mind, he doesn't play all out. If it happens, it happens. And the only thing you'd like for me to say is that if it happens you hope he doesn't get back up and play again."
The Saints could be the first defense to get a 15-yard penalty before the game is even played.