Yes, most people have already written their Top 10 movie lists for 2014. We're saving ours for the last week of the year, but while we wait for this full, rich, and weird movie year to end, we're going to start looking back at certain highlights. Today, it's a look at the worst movies of 2014. We'll get to get best ones on Monday.
Jokic? Embiid? The NBA MVP is obvious... right? | Keep it a Buck(et)
Grierson
Annie. With the exception of the pretty hilarious Twilight parody MoonQuake Lake, this new version of the Broadway musical doesn't contain much of anything that's clever or even campy-fun. When Willow is the voice of reason in the Will Smith family, we should all be concerned.
I, Frankenstein. Wherein Aaron Eckhart makes a deal with the devil: He gets the best abs of his life to be in the worst film of his career. Also starring Bill Nighy, the lady from Chuck, some truly terrible CGI, and the rotting corpse of Mary Shelley's great story.
Sex Tape. Jason Segel and Cameron Diaz star in this witless romantic comedy based entirely on the belief that nobody in the audience understands anything about how "the Cloud" works.
G/O Media may get a commission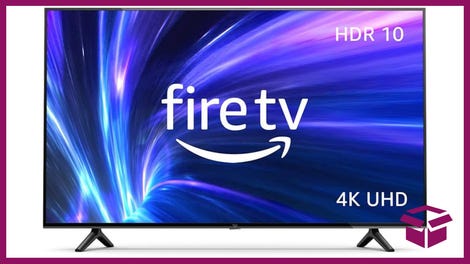 42% Off
Amazon Fire TV 50" 4K Smart TV
Teenage Mutant Ninja Turtles. Green testicles with masks crack dumb jokes, hang out with Will Arnett, make Megan Fox seem charismatic by comparison.
Words and Pictures. A reminder that even your favorite actors can make terrible movies, this one stars Clive Owen and Juliette Binoche as coyly feuding prep-school teachers waging a stupid contest to see which is superior: words or pictures. (He's a poet! She's a painter! What are the odds?!?!) The whole thing is so saccharine it's practically a PSA-type warning about the dangers of middle-aged sophisticates meeting cute.
Leitch
Exodus: Gods and Kings. So wasteful and pointless that it feels like a tax write-off, like 20th Century Fox had were pulling a Producers to balance a debit sheet somewhere. I'm not sure I've ever quite seen an actor look quite as ridiculous in ancient Egyptian garb as John Turturro in this movie. Seems specifically designed to appeal to absolutely no one.
The Expendables 3. Never mind the law of diminishing returns: With this second sequel, we find out what happens when old movie stars not only don't have the strength to make it through their action scenes, they don't even have the gumption to even try. How old is too old for a cynical money grab? Movies like this are why Sylvester Stallone has had to make half a dozen comebacks already. This movie can't even muster up the energy to give Mel Gibson a great bad-guy role to play.
A Million Ways to Die in the West. I said it in my review and I'll say it again: This movie couldn't have been worse for the reputation of Seth MacFarlane had it been made by someone who was specifically attempting to do him harm.
Monuments Men. I like George Clooney, you like George Clooney, we all like George Clooney. But maybe it's time to stop encouraging him to direct movies? This is his third dud in a row after the promising start of Confessions of a Dangerous Mind and Good Night and Good Luck, and this is the worst of a bunch, an earnest dramatically inert, and profoundly dull saunter through the most boring parts of World War II. Gathering a cast like this and giving them nothing to do feels like a crime against nature. Clooney's a great guy, but as a director, he's his own worst enemy.
Tammy. Shockingly unfunny and directed like it was randomly assembled in the truck on the way to the projection booth, Tammy seems to fundamentally misunderstand Melissa McCarthy's appeal, which is why it's that much more surprising that she wrote the script with her husband (who also directed). You can almost sense a smarter movie in there, somewhere, but that version was far too many permutations ago to have any effect here. I saw more offensive and obnoxious movies this year, but nothing was truly more "what in the world are these people doing?" than this one.
---
Grierson & Leitch is a regular column about the movies. Follow us on Twitter.
The Concourse is Deadspin's home for culture/food/whatever coverage. We're on Twitter, too.