Dustin Pedroia, Anthony Mackie, Bill Burr, and improvisational quarter keg Rob Gronkowski showed up at a roast for David Ortiz yesterday. Gronk's material was clearly prewritten; Pedroia's was supposedly not. One was clearly funnier than the other.
Boston.com has video of the two athletes' bits. It was truly a feat that Gronk could read out loud for a prolonged amount of time. The Pats tight end's roast started out rough, as he flubbed the delivery of some low-hanging fruit. A selection:
Anthony Mackie is here, everybody. Anthony played Falcon in Captain America: Civil War. Anthony, you were terrible, dog. It was the worst I've seen a Falcon look since the second half of Super Bowl 51.

And that superhero, you know, the Falcon, the superhero, that's the black guy. You know, who can even fly when he's not being chased by the cops? That's his superpower.

[...]
Remember when David was famous a few years ago saying that if he weren't playing baseball, he'd want to be a porn star? Now, I know porn, and I swear, there's no way this could work. First, there's the obvious issue: when Big Papi pulls down his pants to reveal—Pequeño Papi. I'm not saying just because David's covered in gold chains and diamond earrings, he's compensating for something. I'm just saying, he probably has a small-ass piece. Plus, what if they do the classic porn delivery guy? Can you imagine any scenario when David actually puts down the fucking burrito to fuck the girl? [Gronk does terrible impression of David Ortiz eating a burrito while fucking a girl] "Just blow me!"

[...]

Oh David, thanks for showing up on time to all the Dunkin' Donuts shoots. I had a blast jackin' off for two hours in your green room every time. Hopefully you never used those pillows on your breaks. By the way, it's "Dunkin' Donuts," not "Yunkin' Donuts." I had to stay for an extra 10 hours because of your fuckin' fat ass.
In the middle of a few Big Papi fat jokes, Gronk finally found the timing and coherence for a legitimately good line:

Remember last year when they canceled David Ortiz Bobblehead Night, allegedly because the bobblehead was racist and insensitive? Pfft, like that could ever happen in Boston.
Pedroia's set, which starts at about the nine-minute mark, was smoother and better. The Red Sox second baseman told two anecdotes from his playing days with Ortiz. One was about Big Papi supposedly not knowing his first name; the other was Pedroia's thought process as Ortiz demolished a dugout phone right next to his teammate's head in 2013. Pedey gets a B for effort; Gronk gets a D, because it'll make him snicker.
G/O Media may get a commission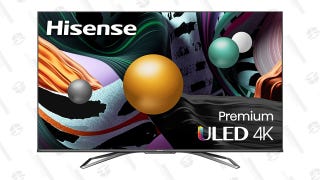 Save $350
Hisense ULED 65" Android 4K HDR Smart TV
Update (4:21 p.m. ET): NESN had planned to televise the roast over the weekend, but the channel has backed out because of all the cusses and sex jokes. The Boston Globe also has jokes from Bill Burr:
"I can't believe they're retiring this guy's number," said Burr. "He's a [expletive] DH. Retiring a DH's number is like putting a vice president on Mount Rushmore."
"Where do you get off being honored when you only have three championships?" said Burr. "Last I checked, [Tom] Brady had five and he's still playing. Imagine if you just ate a salad every once in a while."