Now this is how to win the World Half Marathon Championship. Kenyan ace Geoffrey Kamworor's ripping victory in 59:10 (that's averaging four minutes and 30 seconds per mile for 13.1 miles) at Sunday's race in Cardiff, Wales, is a thing of physiological wonder. That any human could scissor his legs over pavement that quickly for nearly an hour stands on its own.
Jokic? Embiid? The NBA MVP is obvious... right? | Keep it a Buck(et)
More amazing than that? Kamworor slipped on the rain-soaked road right at the start, went down hard, and was trampled by runners behind him. It was estimated he lost seven seconds and undoubtedly a whole lot of focus as his race plan underwent some serious on-the-fly revisions.

You want more amazement? As the race commentators were saying what a shame it was that one of the favorites was out of contention right from the start, Kamworor was busy fighting to his feet, threading through the pack, and popping back in the lead pack within a minute-and-a-half.

Okay, stop. It's too much. RunnersWorld reports that some guy running in a superhero costume (more on that later) captured the fall and Kamworor's championship recovery on video. This, friends, is how you get back in the race. It's so fast, wait for the slow-mo at the minute mark.

The rest of the world class field was not dallying, waiting for him to catch up. The lads hit two miles in 9:06 and 5K in a brisk 14:10, Kamworor at the front, having completely shaken off what most would have considered a disaster.

G/O Media may get a commission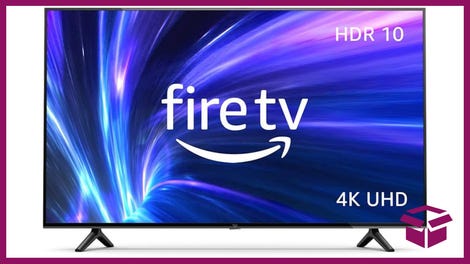 42% Off
Amazon Fire TV 50" 4K Smart TV
So, blah blah, best runners in the world, turning the screws, smoke emanating from their sneakers, suffering at the cellular level—another day at the office for the World Cross Country Champion and World Championship 10,000 Meter silver medalist. But Kamworor's travails were not quite over.
As he came within sniffing distance of the finish line still accompanied rather troublingly by countryman Bedan Karoki, Welsh weather happened. Great bathtubs of water were hurled sideways by sheep-shoving wind. The camera feed went out briefly. While other runners were holding onto their hair and no doubt muttering bad things, Kamworor saw this as the perfect opportunity to run faster. So he did, and won.

He told the BBC after the race, "Unfortunately, I fell down and I said [to myself], 'I will not give up. I'[ll] go after the champion[ship],' and I am really happy and encouraged to win the race despite the challenge."
He did blame the rain for failing to run the fastest half marathon ever, but overall, thumbs up. Dang if I can't find the pithy quote right now, but it's something like, Some runners will only win if everything goes right; champions will win no matter what. I trust someone will illuminate my darkness.
The other superhero of the day, who posted the video of Kamworor's quick recovery, was Oliver Williams of Heath, Wales. Williams was dressed as Superman in an attempt to break the Guinness record for fastest superhero-attired half marathon. Done and done, Williams displayed the determination of a champion by clocking a man-of-steel 1:15:43, crushing the previous Guinness mark by almost two minutes. The moral of this story is: Be resilient, be courageous. Run like Superman.