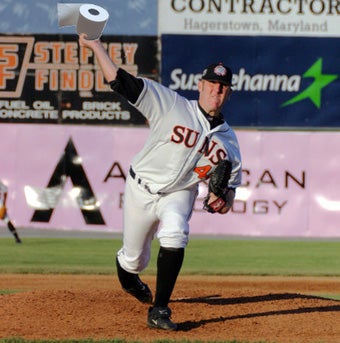 What's coming up in the world of minor league baseball ... we proudly give you Rick Chandler's Minor Enterprise!
You've had June 15 circled on that calendar in the bathroom for months, and finally the big night is here. So pull up your pants and get on down to Municipal Stadium, as the Hagerstown Suns proudly present their gala Salute to Toilet Paper. The significance of this date in history may have escaped most of us, but the Suns, of the Class-A South Atlantic League, are not ones to let the 150th anniversary of toilet paper go by without a celebration.
Fans will have the opportunity to learn about the illustrious history of toilet paper, and participate in toilet paper related on-field contests and trivia. Following the game, select fans will receive a free roll of toilet paper autographed by Suns pitcher Chris Lugo.
Of course, singer Sheryl Crow will be banned from attending tonight's game for anti-toilet paper comments she made early this year.
As if this wasn't enough, the Suns' weekend homestand against the Lexington Legends also features the third annual National Egg Toss Championships on Sunday, which is also Dog Day, presented by Park Circle Animal Hospital and Smithsburg Veterinary Clinic. And according to the press release, "thirty minutes prior to the first pitch a Suns player will be on hand to read a story to all children ages 1-7." Thirty minutes? I hope it's not a long story.
More minor league promotional goodness, plus a shocking mascot throw-down and yes, boobs, after the jump.
• Bridget Marquardt Manages The California League All-Stars. Tuesday, June 19. Stockton Ports (Class-A California League). Well OK, she's the honorary manager, as the Ports play host to the California League-Carolina League All-Star Game at Banner Island Ballpark. Marquardt, a native of nearby Lodi, Calif., is one of the stars of the TV reality show The Girls Next Door in addition to being a Playboy Playmate and one of Hugh Hefner's three main girlfriends. For those either too young or too old to get excited about that, former All-Pro Oakland Raiders wide receiver Fred Biletnikoff will also be on hand.
• Coke And A Poke. Ongoing. Brevard County Manatees (Class-A Florida State League). Unfortunately not associated with the promotion above, Coke and a Poke provides Manatees fans the chance to buy cases of Coca-Cola at discount prices, and possibly win some batting practice swings against Manatees pitchers. And that's all.
• Dan Marino Appearance. Tonight. Greenville Drive (Class-A South Atlantic League). NFL superstar Dan Marino signs autographs, offers sage advice and tries to get you to buy a timeshare at his Cherokee Valley Golf Community. And once again it's time to hide dad's checkbook before piling into the car.
• Billy Donovan Night. Wednesday, June 20. Fort Myers Miracle (Class-A Florida State League). As detailed yesterday, Miracle fans will have the opportunity to back out of their ticket purchase during the game in similar fashion to the way Donovan u-turned on his $27.5 million deal with the Orlando Magic. Bring your glove, and your attorney!
• Insignificant Events Night. Thursday, June 21. West Virginia Power (Class-A South Atlantic League). Settle back and enjoy stadium announcements and pre-game activities centered on the most trivial subjects in world history. Included, presumably, will be a reading of the Cleveland Cavaliers' starting lineup.
• Mascot Of The Week. Violence mars the Fresh Produce Races. Greenville Drive (Class-A South Atlantic League). As you can see, banana has taken a substantial lead over apple before deciding to stop and do the Peanut Butter Jelly Time dance, with tragic results. Front-running broccoli, of course, wants no part of the sectarian violence. Our favorite part: When an observer remarks "Broccoli's gone, man."
• Blog Of The Week. Robert Lintott, a 21-year old music major at George Washington University, has started a blog dedicated to the Bowie Baysox (Class-AA Eastern League). A worthy subject, as it was the Baysox who gave us Office Space Night, as you'll recall. Check out his blog right here. Live blogging from the press box, with no NCAA interference! You go, America!
• Bobblehead Of The Moment. Kevin Costner Bobblehead Giveaway. Saturday, June 16. Inland Empire 66ers (Class-A California League). A treasured item for any collector, your Kevin Costner bobblehead is ready to provide endless fun in the pool (Waterworld) or on land (The Postman). He was in a couple of baseball movies also, I hear.
We want your minor league tips! Send any photos, info on upcoming promotions or empty toilet paper rolls to RickChand@GMail.com.