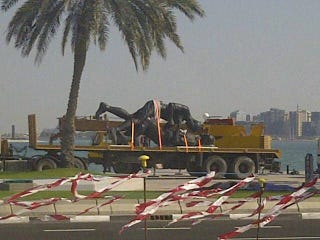 Statue of controversial incident elicits controversy. Who'd a thunk it?
When when we last met up with the Coup de tête, Adel Abdessemed's 16 foot bronze monument to one of the most insane moments in World Cup history, it was nestled comfortably in Paris. Recently, it was purchased by the Qatar Museum Authority and on exhibit outside in Doha, where it was to remain permanently.
But mix soccer craziness with huge statues and religious fundamentalism and the concoction is bound to be caustic. The statue had to be taken down after local backlash for what the piece stood for. Unsportsmanlike behavior? Losing one's head in a time of pressure? Ineffectual fighting techniques? No, mainly just run-of-the-mill idolatry. Apparently, many in the Islamic conservative movement find any statue depicting people or animals to be idolatrous and thus worthy of condemnation.
The statue will now join some other works of Abdessemed in Doha's Arab Museum of Modern Art. However, we feel a work of this magnitude should be enjoyed by the masses. Maybe someone should call our buddy Shahid Khan, he'll soon have some room available.
[Picture via Ali Khanan]