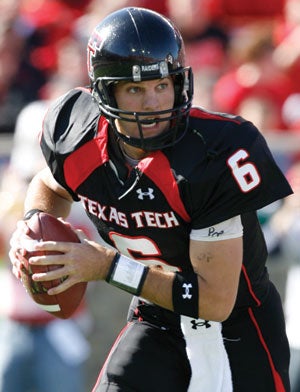 If you bet the under in the Cotton Bowl, our condolences. Ole Miss just hit a field goal to take a 24-21 lead into halftime.
The teams traded touchdowns in the final eight minutes of the first half,with Graham Harrell becoming your NCAA career leader in touchdown passes with 132, hitting Michael Crabtree on a 1-yard slant to put Texas Tech up 21-14 with about eight minutes left. The Rebels answered with Jevan Snead to Gerald Harris, and we're off to the races. Yeehaw.
Holy crap, Harrell just scrambled about 58 yards with time expiring ... problem is, he needed 60. Get out of bounds! Doh! Half over.
Update: This, apparently, is Harrell's mom. Discuss.
Live Blogging The Cotton Bowl [Barking Carnival]
AT&T Cotton Bowl [Main Site]
Cotton Bowl Live Scoring [NBCSports]