Lord Triesman made the claim during a conversation with his ex-mistress, which she happened to be secretly recording. Between Triesman and Gordon Brown, prominent British officials should go ahead and just assume all their private tirades are being taped.
While having lunch a few weeks ago with a former and ironically-titled "private" secretary (who he also used to boink), the Chairman of England's Football Association stated that Spain was enlisting Russia's help in paying off World Cup officials. In exchange, Triesman said, Spain would throw its support behind the Russian bid for the 2018 tournament. Triesman also managed to spout off on the aforementioned Brown ("I always thought he'd be a disaster as a leader, I always thought that"), Latin American football officials (they have a "history of extraordinary corruption"), and Daniel Craig as James Bond ("he's quite alright, but Sean Connery looked infinitely more corking with his shirt off.")
Okay, he didn't say that last one. But what he did say has England in a tizzy, and it could end up seriously damaging his country's own bid to host the Cup, an effort the good Lord himself is spearheading. And while it's not apparent why she's doing it, what is clear is that Triesman's ex-mistress, one Melissa Jacobs, is intent on destroying him. In addition to turning over the tape of their conversation, she also shared the nature of the text messages Triesman used to send her when they were still romantically involved:
He described in one [text] how he craved her company and said in another: 'I need you'. He ended one message with 'BKsAO' – which 37-year-old Miss Jacobs said stood for 'big kisses all over'.
According to Babelfish, "big kisses all over" translated from the Queen's English means, "I want to hold you down while I choke you and f*** that a** that I own." Royally screwed, however, means the exact same thing.
G/O Media may get a commission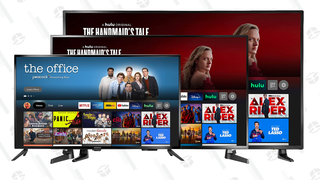 Up to 44% off
Prime Early Access - Insignia Fire TVs
FA chief Lord Triesman accuses Spain and Russia of bid to bribe World Cup referees [Daily Mail]