FreeDarko's Bethlehem Shoals, a regular contributor to NBA FanHouse and co-author of The Undisputed Guide to Pro Basketball History (visit the FreeDarko store, too!), is keeping a game-by-game diary of the Heat's season — the one you're pretending not to care about.
The best sports movies according to Toheeb Jimoh
Result: Heat 97, Pistons 72
Record: 11-8
From the place mat at Jade Palace, the only Chinese restaurant in Chapel Hill for the first 12 years of my life, I learned I was a horse. My wife subscribes to an astrology podcast and has taught me that I am a moody, cold, calculating goat bound to succeed in business. When I look at blots of ink, I see butterflies fisting dead bodies. We all want to find out who we really are. That is why LeBron James has returned to Cleveland: to teach us all a little something about ourselves. Sports are always a matter of identity, and what you hope to see tonight on TNT (or CNN, or the Food Network) will get you one step closer to answering that eternal, burning question. Who are you?
Wished-For Outcome No. 1: LeBron drops 70, Cavs are decimated
You are a piece of shit, 1A. The city of Cleveland has had its heart ripped out and seen its economy fall to pieces. Regardless of whether or not you agree with their full-throated repudiation of LeBron James and his YBF cabal, this city has suffered enough. Let them die with quiet dignity, over in three quarters, with Mr. Invincible continuing his run of muted, uneven production for the Heat. For James to suddenly find his stroke, his stride, and his groove in his old haunts is the worst kind of bullying. The Cavs have been surprisingly decent in this season's early going, and the Heat mediocre. Would a breakout performance here be symbolic or merely gratuitous? Brother, you're going to have to look in the mirror for the answer to that one.
G/O Media may get a commission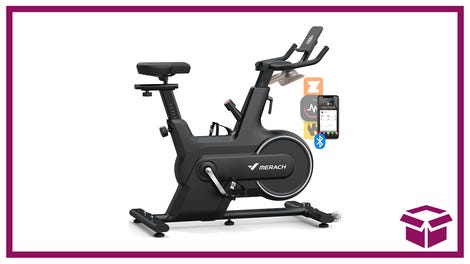 14% off + Coupon
Merach Indoor Cycling Bike
Wished-For Outcome No. 2: LeBron is stoned to death on the floor of the Q
You are an even worse piece of shit. It's always messy to bring politics into sports, especially when you don't even mean it to get political. Unfortunately, there is no way around it: There's a serious Tea Party vs. Obama quality to all of this. You can take or leave the "failed messiah" and "uppity black dude" aspect of that as you see fit. The key is the dynamic: the Tea Party, as a proxy for the disillusioned right, made hating Obama their sole reason to be. It consumed them; stopping the President was more important than, well, whatever else it is that civic engagement is supposed to consist of. They defined themselves only in the negative; winning isn't enough. The man must be vanquished.
Wished-For Outcome No. 3: Close game that breaks the Heat's way
Congratulations, for being both a realist and an optimist — in that order. Cleveland is not dead, or even sleeping. All this negative energy can be pushed toward legitimate channels, i.e., cheering on the Cavaliers in a game of basketball. James will likely come out swinging (figuratively); remember when he dropped all those points on the Knicks just because Kobe had gone off there the night before? Wade will stand down even more than usual, and Bosh might get melted by J.J. Hickson, but he's hardly the focus here. Remember, though, LeBron not only topped Bryant's point total, he managed a pretty much effortless triple-double. You would expect even more of that with him playing point guard. That said, the Heat's problems are no secret, and even a rampaging James can only compensate for so much, unless, remarkably, the entire team comes together because of LeBron's persecution. Does this team have feelings like that? Do I even know what feelings an NBA player has?
Wished-For Outcome No. 4: Close game that breaks the Cavs' way
Take the last outcome, run it through the opposite machine, and then read it backward.
Wished-For Outcome No. 5: James Jones is the hero
The most mystifying of all the options. James Jones is a nobody, elevated only by the attention his teammates draw. Threes for days, without the parasitic qualities that make Eddie House a source of constant repulsion and amusement. A win for the Heat is a win for LeBron, but at the same time, if Jones is the catalyst, then star power itself has been negated. The King came up lame, and the common man had to bail him out. It's a reminder of all those times someone other than LeBron helped the Cavs across the finish line. That wasn't James's team, no matter how badly he wanted it that way. There were other figures in the shadows. Defense. Rebounding. Mike Brown. Basketball is a team sport and no one, not even LeBron James, could defile this principle. You are only as strong as the weakest among you, and as weak as the strongest among you allows himself to be. Right? (Except, um, there are no open looks without LeBron. And Wade. And Bosh, sometimes. Does the moon ever laugh at the sun? If you had to blow up one to save Earth, which one would you choose?)
Wished-For Outcome No. 5: The game is canceled and/or the National Guard has to be called in.
If this one makes you tingle, either you are waiting on the end of the days, or you are a big quitter. The death of LeBron would be cruel and unusual — and, incidentally, set up the Jesus H. Christ narrative that this city would like so badly to erase. Cleveland as the New Rome doesn't sit well with anyone there, unless they have someone else in mind to blame. On the other hand, if you consider it a moral victory to force an end before tonight starts, congrats. You probably stockpile canned goods, consider "Take This Job and Shove It" an anthem for our times, and prefer to yell at waiters and storm out of buildings rather than try for the refund. I suppose that, if you light the box on fire and throw it in a bog, you are outside of it. Except then, you've also opted out of the system. You're irrelevant. I am not better than you at Scrabble if I throw the board across the room 10 minutes into the game.
Wished-For Outcome No. 6: The titans rise
Say we got great fun not only from LeBron James, but from the Heat as a whole. Say we got what some of us (ahem) have been waiting for since July. I guess that's a heartless jab at the people of Cleveland. But this is the only possible way to make this into just another basketball game. We are so desperate for quality Heat that, if Wade and James worked together beautifully, and Bosh went 20/10, the Cavs would be rendered just another team — the bad half of a box score, nothing more, nothing less. This one is for the kind of person who believes in the high road, but understands that it's not just sitting there at the ground floor. To solve a problem, you must simply be more awesome than the problem. Like those Lexus-for-Christmas ads.
Wished-For Outcome No. 7: Misery loves company
Look, the Heat aren't exactly living it up. The Cavs are basically in rebuilding mode. No one is happy. There is more in common here than anyone cares to admit. We all die alone, and thus should probably love our enemies along the way.
Wished-For Outcome No. 8: Dan Gilbert time
There are two kinds of anger here — earnest (if misguided), and just plain rotten. If you want to burn LeBron's jersey, cry, and pretend this is all about sports and privation, fine. Dan Gilbert, though, has trillions of pay-day loan dollars invested in this operation. Why might the LeBron hate continue? Because it's all that keeps the team in the national news, on TNT this once, and just generally worth caring about. The Decision made James more famous than ever. Cleveland is the mecca of the backlash and would be foolish to surrender this distinction.
Do you really think that the Comic Sans missive was nothing but sorrow and anger? Please. That publicity stunt made Gilbert a household name, changed the way we saw that font, and provided a rallying point for Cavs fans. Announcing this tampering probe, or attempt at one, on the eve of this game is nothing but more Barnum-ing. To draw in the fool, you must become one, or at least walk among them. It's all about getting attention and building a truly despicable brand, one based on notoriety. Would Gilbert let his city burn to make CNN? If you're thinking that, you're either a serious conspiracy theorist or a member of the State Department.
Bethlehem Shoals is a founding member of FreeDarko.com and a regular contributor to NBA FanHouse. You can buy The Undisputed Guide to Pro Basketball History and lots of other stuff at the FreeDarko store.