Your morning roundup for July 13, the day we met, and then ran away from, Magnet Boy.
Jokic? Embiid? The NBA MVP is obvious... right? | Keep it a Buck(et)
What we watched: Another All-Star break come and gone, and we'll only take three lasting memories from this one: that guy falling into the pool, that guy almost falling over the railing, and Heath Bell's coked-up madman sprint and slide. Don't blame the players or the ASG, but instead blame the charmless Chase Field for providing a wholly unmemorable setting. I'm told it's a gorgeous backdrop when the roof is open, but the roof is only open a few games each year, what with being in the middle of Arizona and all. When it's closed, it looks from the outside like an oversized fieldhouse, or perhaps more fittingly a warehouse. And the inside doesn't have any quirks or distinguishing features beyond the pool, which is gimmicky at best. So why award the All-Star Game to Chase Field?
Because it's new. Since 2000, there have been only three All-Star host stadiums that weren't still taking the price tags off: US Cellular Field (actually only 12 years old at the time, though it already seemed ancient), Yankee Stadium (a nostalgia-laden sendoff) and Angel Stadium (inexplicable). There are only two franchises that have never hosted an All-Star Game, Florida and Tampa Bay, and they're the only two that have never built a ballpark. The Marlins will get theirs at their new stadium in 2015, like the Twins in 2014 and the Mets in 2013. (Kansas City has it next year, and everyone who's ever been to Kauffman Stadium swears it's one of the most beautiful in baseball.)
G/O Media may get a commission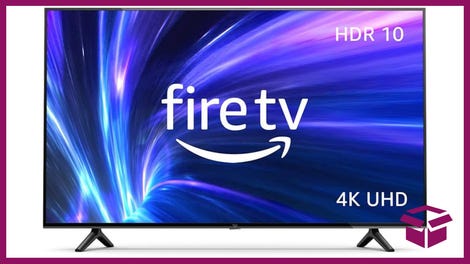 42% Off
Amazon Fire TV 50" 4K Smart TV
The thing to keep in mind is this: In Bud Selig's world, there is no greater purpose in life than to build new stadiums. They indicate growth and stability for baseball, or at least a local government willing to sell out future taxpayers for their own re-election campaigns. And in Bud Selig's world, there is no greater reward he can bestow on a franchise than giving it the All-Star Game. So congratulations Chase Field, you've had your moment in the hot, desert sun. (Barry Petchesky)
What we're watching: The U.S. women's national soccer team continues its World Cup bid today, with its semifinal against France at noon (Japan-Sweden is set for 2:45). We're confident in the Americans after their epic, come-from-behind win over Brazil on Sunday, and not only because they're more experienced than the French by a mile — the U.S. was the most capped team in the field this year, while this semifinal berth really marks France's best performance in team history. The U.S. is certainly favored, but the pressure to advance rests mostly on Hope Solo, who will need real support from her back line. With 80 attempts this year, Les Bleues are the most shot-happy team in this year's Cup.
Still, France and the U.S. shared the lead in a much more important category: they've each fired 37 shots on goal throughout four games. So while this match-up may not live up to the epic against Brazil (that's asking a lot, after all), it will showcase two of the most able and potent offenses in this World Cup. This is not going to be the soccer game that inspires those tired complaints that nothing ever happens in this game. Solo, though, is the best keeper in the field, and the U.S. will advance behind her play. There's only one downside to that: the headlines. (Emma Carmichael)

Elsewhere
A fond sort-of farewell to a friend: "I'm sure we'll still push out the occasional Profile in Commenting and as many long-form pieces as I can talk myself into, but look: Deadspin commenting seems to be in a very healthy place these days. It was decidedly not back in March. Little did I know, back then, how impossible the roundups would be to maintain if things ever picked back up again. Going forward, I expect I'll nod in the direction of some hugely successful comments, especially if I feel like I have something interesting to say about them. Similarly, I reserve the right to beat up on the occasional piece-of-crap comment with as much vitriol as I can muster. I like writing things. Just not daily roundups." [Mad Bastards All]
The Mets have figured it all out, or at least this one thing: "For a team with significant financial difficulties, finding a way to unload Rodriguez, the volatile closer who was arrested last summer for assaulting the grandfather of his children, was a vexing problem. But somehow Alderson figured it out. He traded Rodriguez and a substantial amount of cash to the Milwaukee Brewers for two players to be named later, thus unburdening the Mets from what could have been a crippling financial obligation for next year. The deal was completed Tuesday, but the Mets could not announce it until after the All-Star Game. Alderson released a brief statement after midnight. 'This trade allows us to develop and more fully utilize other members of our 2011 bullpen and offers some payroll relief as well,' Alderson said." [New York Times]
Katie Bakes on losing WFAN on the West Coast:
"OK, Mikey! First up we got! The Green Bay Packers! At Carolina."
"What time was the game, Dog?"
"1 p.m. game, Mikey."
"So that's noon in Green Bay."
"That's noon in Green Bay."
"Carolina. Well, there was no golf on …"
"No golf, no NASCAR. NBC was showing figure skating, which, talk about a sport that is an absolute disgrace …"
"This isn't the first time with the French judges. It's just an embarrassment."
"Packers-Panthers, Mikey!!!"
"Two … not terrible teams, Dog, but you know, didn't the Jets play at 1? [sound of shuffling papers] The Jets played at 1. I was on the bench so I had no concept of time. Everyone's watching the Jets at 1, Dog. Bill Parcells, Dog … so back to that game, I'm gonna say two … two-seven."
"MIKEY IT WAS A TWO-TWO!"
"A two-two. I knew it. I knew everyone would be watching the Jets. We'll be right back after this." [Grantland]
Might Frank Martin want a promotion? "Asked what kind of coach the team needs to hire next, Anthony Tolliver said, "Someone who's going to be a disciplinarian. Kurt's a really nice guy. Sometimes that got in the way. I'm not saying he's too nice, but sometimes it's good to have a coach no likes to be a jerk. "I know several players on the Bulls and nobody really liked Tom Thibodeau, but that's O.K. You don't have to like the coach. You just have to be able to play for him."" [Minneapolis Star-Tribune]
Not that you don't already know, but taxpayer-funded stadiums are a giant scam: "To help finance its stadiums, Hamilton County assumed more than $1 billion in debt by issuing its own bonds without any help from the surrounding counties or the state. As debt service ratchets up, officials expect debt payments to create a $30 million budget deficit by 2012.
'The Cincinnati deal combined taking on a gargantuan responsibility with setting new records for optimistic forecasting,' says Roger Noll, a professor of economics at Stanford University who has written about the deal. 'It takes both to put you in a deep hole, and that's a pretty deep hole.'" [WSJ]
Where does the NCAA's money go?: "The NCAA expected to distribute $180.5 million to its Division I members that participated in the men's basketball tournament. The payments are determined by each school's performance in the tournament over a rolling six-year period..One unit — or a payment of $239,664 — will be paid to each school participating in each game, except for the championship game. The payments are sent to the conferences, which distribute the money among their schools, or independent institutions in mid-April. After the 2010 men's tournament, the Big East was paid more than $23 million and the ACC received more than $18 million." [ESPN.com]
Freestyle iceboating interlude:

We are all Dave McKenna CXLIV: Here's your daily link to Dave McKenna's brilliant "Cranky Redskins Fan's Guide to Dan Snyder," which we'll be posting every day until Snyder's dumbass libel lawsuit gets flambéd.
KAAAAAHN fires Rambis: "Announcing the worst-kept secret in sports, the Timberwolves on Tuesday finally, officially fired coach Kurt Rambis and set out to find a replacement more attuned to their players and more genetically predisposed to create the kind of fast-break basketball David Kahn said he envisioned when constructing the team's talented and painfully young roster. Nearly three months after season's end, Kahn informed Rambis' agent Monday morning after he failed to persuade the owner of eight NBA title rings as a player, coach and executive to serve out the remaining two seasons — and $4 million left on his contract — in a front-office position." [Minneapolis Star-Tribune]
"Mostly women" will decide Roger Clemens' fate: "An overwhelmingly female jury with little interest in baseball will decide whether former pitching star Roger Clemens lied to Congress when he said he never used performance-enhancing drugs. The jurors who took their seats Tuesday include a woman whose cousin, former outfielder Al Bumbry, was a coach for the Boston Red Sox when Clemens played for the team, although she didn't know about the connection to the defendant. Another woman on the jury said she believes Philadelphia Eagles quarterback Michael Vick was "done wrong" in his criminal conviction in connection with dogfighting." [AP]
This is a seriously optimistic headline: "One C.J. Wilson Mistake Could End Up Costing Rangers Title," and yes, he's assuming the Rangers will make it to game 7 of the World Series. [Dallas Morning News]