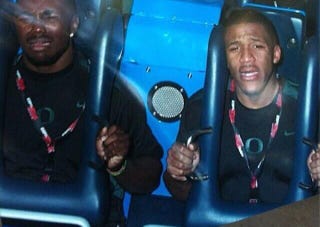 Don't know a damned thing about the story behind this photo, other than that it's 49ers running back LaMichael James, back in his Oregon days, being brought nearly to tears by a theme park ride. It was not the only time a roller coaster would do a number on James.
Update: And that's Panthers RB Kenjon Barner next to James.
The photo was posted by a high schooler from Springfield, Ore., so I can only assume that funny photos of Ducks athletes snagged by teens working summer jobs are used as currency up there.