Before today's game at Marlins Park, the Dodgers' Yasiel Puig cut right to the chase regarding his thoughts on the people who write about him.
Update: Friedman amended his second tweet, saying Puig's comment happened in the clubhouse, not the press conference.
G/O Media may get a commission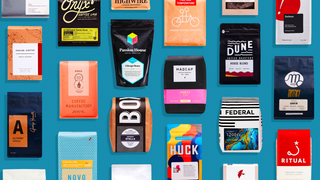 Get $25 free
Trade Coffee - National Coffee Day
The reason for Puig's outburst isn't known. Could it be due to Jon Morosi's column from Sunday night, in which he complains about how Puig's "fundamental lapses" will eventually hurt the team, and suggests Puig be benched for a game so he's "more aware of game circumstances"? We'd like to think so.
Even if that column isn't why Puig flipped, it's still worth mentioning, on account of its ridiculous logic. Morosi specifically harps on a report that claims the team is unhappy when Puig ignores cutoff men on throws. (Of course, when a player has maybe the best arm since Bo Jackson—as documented here and here—maybe he doesn't need to worry about the cutoff man.)
Morosi himself points out in the column that the Dodgers have gone on a nearly historically unprecedented 42-8 run with Puig leading the charge. Perhaps that's despite Puig? No one on the Dodgers seems to think so. Sure, the rookie makes foolhardy decisions like running from second to home on an infield groundout, but as manager Don Mattingly says, "You take the good with the bad." The vague idea of Morosi's argument is that Puig's rookie mistakes will bite the team in the ass at a crucial point in the season, they'll be devastated, and it'll all be his fault. Keeping their best position player out of a game—and giving him one less game to fix those brain cramps—is apparently the best way to fix things.
The idea of benching him for even one game—"the clearest form of manager-player communication," as Morosi calls it, because talking is apparently outlawed in the Dodgers clubhouse—seems like it would hurt the Dodgers more. Los Angeles is 7.5 games ahead of the second-place Diamondbacks, but they also have seven games against each other left on the schedule. Which seems more detrimental: intentionally leaving a player with a .986 OPS through 66 games out of a lineup for a day, or waiting in paranoia for a 22-year-old to fuck up and become human?
Photo: Chris Gardner/Getty Images