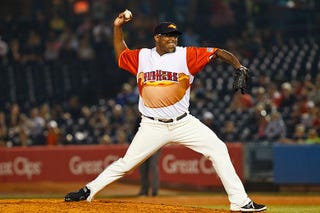 This is the picture of the season. This jersey should be in Cooperstown. When you walk into the Hall of Fame—No! The Library of Congress—you should be greeted by a life-sized bronze sculpture of Jose Valverde and his hot dog jersey, because it's a goddamned national treasure.
For an 11-year MLB vet, the minors are humiliating enough even before the themed jerseys. The erstwhile Tigers closer earned himself a DFA trip to Toledo by giving up a few too many ill-timed home runs, but his Mud Hens stint has been pretty good so far. But en route to grinding his way back to the bigs, Valverde's going to have to put up with nights like Saturday's "Hot Dogs and Baseball Night."
The promotion featured the "Create Your Own Hot Dog Challenge," which sounds less like a challenge and more like an all-you-can-eat toppings bar. There was an appearance from Jake the Diamond Dog, who is an actual dog and not a hot dog, so I guess the theme was kind of a loose one. But the real stars of the night were the jerseys, which were auctioned off for charity.
(We'll have to dig up some more photos from the game to see if that screenprinting is supposed to be a hot dog with mustard, or if that's just actual mustard smeared on Valverde's front.)
While Valverde could earn a call-up if he strings together a few more good appearances, he's reportedly hoping that doesn't come before Aug. 18, because he doesn't want to miss the scheduled appearance by Scooby-Doo.
Photo via the SI Vault