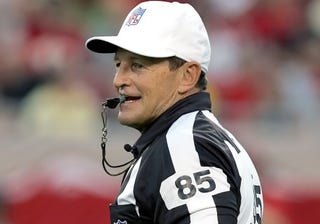 Your high school football team gives up a field goal with six seconds left in the sectional championship game, leaving them down by two. In an unlikely sensational turn of events, the ensuing kickoff is returned 50 yards for a game-winning touchdown with no time on the clock. Just as the celebration rolls through the stands, you realize your team has stopped jumping excitedly. Why, what could have caused them to... oh, the referee blew his whistle inadvertently and ended the game before the run took place. So sorry, Vacaville (CA) Christian High School! Them's the breaks.
Our favorite part of this story revolves around the Vacaville head coach's reaction:
"We're the section champions," VCS head coach Chris Smith said as the Pride lifted the section banner in the distance. "They stole it from us. It's unbelievable. We're going to protest this to the highest level. I guarantee it."
Who stole it? Bradshaw Christian High School? The referees? The Illuminati? Enlighten us. Mr. Smith. We're learning a great lesson about handling adversity. Perhaps the World Court should clear their schedule to hear this case in April 2014. They could combine it with that speeding violation you received last August that you're also taking to the highest level.
Inadvertent whistle costs VCS title [Vacaville Reporter]