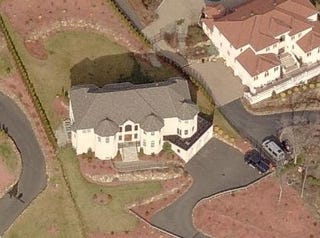 This is apparently a shot of Plaxico Burress's place in Totowa, New Jersey. I'm going to venture a guess to say he won't be using the upstairs part of it for a little while. So it's your move, squatters. But if the small area his current physical limitations have him confined to has a television set, then he is probably watching his team get off to a hot start in Washington. Giants lead 10-0, on a touchdown pass from Eli Manning to one of his bullet-hole free receivers. Elsewhere:
• Indianapolis at Cleveland: In the second quarter, Cleveland leads two fieldgoals to one. And Linebacker Gary Brackett was carted off the field. No Brackett, so Bob Sanders - how much more do you want, Derek Anderson? He's actually looking pretty good so far, but just stalled in the red zone.
• Baltimore at Cincinnati: Ryan Fitzpatrick can't get anything going against the Ravens D (shocker), but the Ravens O isn't doing much either. 3-0 Bodymore, Murdaland, in the second.
• New Orleans at Tampa Bay: Field goals! Field goals everywhere! Tied at 3 in the second.
• San Francisco at Buffalo: 7-0 Niners in the second. The Bills are wearing those sweet unis with the red Buffalo on the helmet. So they've got that going for them.
• Carolina at Green Bay: Panthers up 7-3 on a DeAngelo Williams touchdown. Can we start booing Aaron Rodgers again soon?
• Miami at St. Louis: Ron Brown just punched one in to put the Dolphins up 7-6. That's right: I'm calling him Ron Brown. And Rick Williams. You're grown men, for Petey's sake!
Picture of Plaxico Burress' House in Totowa [Bob's Blitz]