This morning, at Laurel Park in Maryland, Bullet Catcher made a break for it. The four-year-old gelding was returning to his stable after a workout when he decided he was fed up with the whole thing. He threw his jockey, somehow got past the stable gate, and took off.
Jockey Abel Castellano was among those who went after Bullet Catcher, and took this cell phone video of the horse as he galloped down US 1. Castellano explains what happened, in a release put out by the Maryland Jockey Club:
"I had finished working a horse and was coming to the jocks room when I saw a horse run by heading out of the stable gate," Castellano said. "I decided to follow the horse and maybe when he stopped I could catch him. All of a sudden we got to Route 1 and there was a red light. I saw the cars driving by and I said 'oh my God, we're going to have an accident' but at that moment it changed to a green light to make a left and the horse just made a left. I went 'oh, we're so lucky so far' then we got the point where the road splits, you go right so that horse he keeps to the right, so we follow him. The horse is still running 30 miles an hour. Finally he slowed down in front of the Chrysler dealership almost to Main Street and we were able to catch him. The story had a happy ending but it was scary."
Bullet Catcher covered some serious ground, decisively taking turns as if he had a destination in mind. DC? The MARC station? The Chrysler dealership? Anywhere where little men won't sit on his back and hit him?
The horse had some abrasions on his feet, but is apparently otherwise OK. For posterity, Bullet Catcher's great escape:
G/O Media may get a commission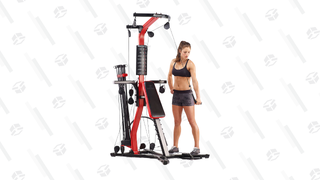 31% Off
Bowflex PR3000 Home Gym
H/t Puck Buddys