Good news, friends: The Thanksgiving holiday brought us not just a bounty of meats, side dishes, and familial bonding, but also mildly interesting baseball transactions that could have anywhere from no to some impact on the upcoming season of "America's pastime."
Jokic? Embiid? The NBA MVP is obvious... right? | Keep it a Buck(et)
Here are those moves.
Mets sign Yoenis Céspedes
Last offseason, a 30-year-old Yoenis Céspedes deemed the offers he received in free agency to be insufficient, and so he re-signed with the Mets on a three-year, $75 million contract that, because of an opt-out after the first season, was essentially a one-year, $27.5 million contract. He proceeded to justify his faith in himself by hitting .280/.354/.530 with many rockets launched both to and from the outfield.
Céspedes triggered his opt-out early in the free agency period, and neither he nor the Mets waited too long to agree on a four-year, $110 million contract that more or less should keep the now 31-year-old outfielder in Queens for the duration of his career. At an average annual value of $27.5 million, Céspedes essentially traded in the contract he signed last year for one with an extra guaranteed year tacked onto the end. The contract also makes Céspedes the second-highest paid position player in baseball history, going by AAV, trailing only Miguel Cabrera's current contract with the Tigers.
G/O Media may get a commission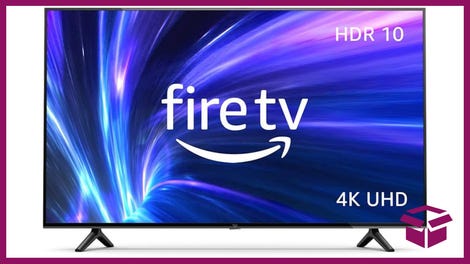 42% Off
Amazon Fire TV 50" 4K Smart TV
Surely, no disaster awaits the New York Mets and their new $110 million, 31-year-old power hitter.
Mariners acquire Jean Segura, Diamondbacks acquire Taijuan Walker
The first big, multi-player trade of the offseason went down thusly: The Mariners acquired 2B/SS Jean Segura plus minor leaguers Mitch Haniger and Zac Curtis from the Diamondbacks in exchange for starter Taijuan Walker and shortstop Ketel Marte.
The headliners, of course, are Walker and Segura. Walker was a top pitching prospect for many years, but in the majors only realized his potential in fits and spurts, posting a 4.18 career ERA that didn't quite reflect his ability. Last season was emblematic. In September, for instance, Walker faced the generally hapless Angels twice. In one start he gave up 5 earned runs in the first inning and was pulled, in the other he struck out 11 in a complete game shutout. He struck out 11 over eight scoreless Indians in a home June start, then couldn't get out of the fourth inning the next time out against the Rays.
Walker is only 24, so the Diamondbacks still have time to help him figure it out. Last year he posted ground ball and walk rates that were almost identical to perennial Cy Young contender Corey Kluber, but Walker's strikeouts dipped and he suddenly became one of the most homer prone starters in baseball. If his rate of home runs given up normalizes—and/or if his strikeout rate spikes back up—Walker should be a good, young starter for a Diamondbacks team that may have a bunch—or none!—of those.
The Mariners get Segura, who was one of Arizona's major offseason acquisitions last season in an ill-fated attempt to blast their way into the playoffs. After two seasons of play that suggested he might not even be a major league player, Segura was a complete animal in 2016, hitting .319/.368/.499 with 20 homers, 33 steals, and adequate defense at second base. The Mariners will slide him back to shortstop and will pleased if he's even half as good in 2017. If he craters back to the zero WAR player he was in 2014 and 2015, one figures they will be less pleased.
The margins of this trade are also interesting. In Marte, the Diamondbacks get a player who entered the 2016 season as Seattle's starter at short after hitting .283/.351/.402 in a third of a season the year previously. His numbers went off the rails in every direction last season (.259/.287/.353), but he also contracted mono, so the Diamondbacks are betting that something like his 2015 self will emerge with health, giving them an upgrade at what has been one of the most dire position groups in baseball.
For the Mariners, far smarter baseball people than I have argued that Haniger, not Segura, is the real prize in this trade. Haniger, a center field hopeful, tore up the minors last season, but was mostly unimpressive in the big leagues. Perhaps the most tantalizing aspect of Haniger's game is that he altered his swing to mimic the high-step timing mechanism of such power hitting breakouts as Josh Donaldson and ex-teammates Jake Lamb and A.J. Pollock. If Haniger turns into a player that resembles anything like those names, the Mariners will win this trade.
Braves trade for Alex Jackson
Quickly—this was a small but notable trade also involving the Mariners, who shipped ex-top 10 pick Alex Jackson to Atlanta for pitchers Max Povse and Rob Whalen. Coming out of high school, Jackson was seen as a potential Wil Myers-like player, a converted catcher whose booming bat demanded that he find a spot somewhere in the outfield. He has not developed at all, and the Mariners decided to cash him in for a few starting pitchers who may be able to contribute in the big leagues next season. The Braves will try and fix Jackson and reap the rewards. Keith Law, for what it's worth, sees both sides of the trade.
Brewers sign Eric Thames
You may remember Eric Thames if, for whatever reason, you paid attention to the middling Blue Jays teams of the early 2010s. Thames was supposed to be the sort of player who struck out a lot, walked a lot, and hit a lot of homers, but after a 2011 season in which he hit an acceptable .262/.313./456, he stopped completing the "walks" and "homers" part of that equation. After bouncing around the minors for a few seasons, he shipped off to the NC Dinos of the KBO, where he promptly morphed into the Korean version of Bryce Harper.
Last season for the Dinos, Thames put up a .321/.427/.679 slash line with 40 homers and 13 steals, and the year before that he was even better, hitting .381 with 47 homers and winning KBO MVP. Please enjoy a reel of his many long smashes:
He'll return to the States on a three-year, $15 million deal inked with the Brewers, who will plop him down at first base. At 30 years old, Thames probably won't be around when the very young Brewers actually get good again, but that's sort of the point. If Thames puts up anything close to those numbers this coming season, the Brewers will be able to further enrich their future by auctioning off a lefty power hitter signed to what is, by baseball's standards, a dirt cheap contract.
That's the best case scenario of course, but Korean hitters have been having success in the majors recently, and in the electric if often haywire Keon Broxton and the roadrunning Jonathan Villar, the Brewers already showed last season that they can unearth imperfect talent and give it the playing time it needs to glimmer.
Marlins sign Edinson Vólquez
Look—nobody is about to jump for joy over the signing of Edinson Vólquez, except for Edinson Vólquez and his immediate family. Last season, Vólquez yakked up a 5.37 ERA for a drab Royals team, and at 33 years old you have to wonder if things will tip back in the other direction. But at two years, $22 million, you can see what the Marlins are thinking. In his two previous seasons, Vólquez put up ERAs of 3.04 (2014) and 3.55 (2015), and though advanced pitching numbers like FIP suggest he wasn't nearly that good, Vólquez still rated as the sort of reliable, back-end starter that's exceedingly nice to have around as the season grinds on. The Marlins will stick him in front of one of the best, young defenses in baseball and hope for the good kind of regression, as opposed to the sort of further regression that means they might have been better off lighting this money on fire.
Cardinals sign Brett Cecil
For the use of a good bullpen arm, the always judicious Cardinals have agreed to pay ex-Blue Jay Brett Cecil $30.5 million over four years. For several seasons, Cecil was a pillar of Toronto's bullpen, posting ERAs under three in 2014 and 2015 while striking out somewhere around 12 batters per nine innings. Last season he got hurt and a few too many balls left the yard, but his strikeout numbers remained stellar while he slashed his walks, so the Cardinals figure they'll be getting a pretty nifty high-leverage reliever for the next few seasons. Since they're the Cardinals, they'll probably be right.
Twins sign Jason Castro
In 2013, Jason Castro hit .276/.350/.485 with good defense, putting up 4.4 WAR (per Fangraphs) for a miserable Astros team that needed that and a whole lot more. In the three seasons since then, Castro totaled a combined 4.2 WAR, settling in as a catcher who doesn't hit for average and doesn't walk, but has some pop, is a good athlete, and is an excellent defender. At three years and $24.5 million, the Twins have given him a contract that's more or less commensurate with that production. One may wonder why a team that won 59 games last season needs to be giving a three-year contract to a 29-year-old catcher, but I guess the Twins could use any decent player, and $8 million per year is a baseball team's equivalent of the change you find when cleaning out your car.
Athletics sign Matt Joyce
This morning, the A's reportedly signed outfielder Matt Joyce to a two-year, $11 million contract. A career .242/.341/.429 hitter, Joyce is the sort of inherently platoonable, cheap hitter the A's love to stack up like poker chips. For the Pirates last season, Joyce put up an .844 OPS against righties, so Oakland will stick him in the lineup on most days and hope to squeeze the remaining juice out of his bat. If he helps them make a run at the Wild Card then great, if not he could be an attractive trade piece for an actual contender.
Braves sign Sean Rodriguez
Another scrap-heap player buffed up by the Pirates, Rodriguez got the same two-year, $11.5 million contract from Atlanta as Joyce did from Oakland. He was an exceedingly useful player for Pittsburgh last season, playing multiple games at every position except catcher while hitting .270/.349/.510 with 18 homers. His new contract indicates that pretty much no team believes that to be sustainable—Rodriguez was below replacement, per Fangraphs, in the previous two seasons—but the Braves will hope that Rodriguez's versatility will still allow him to provide value on a thin roster even as his batting numbers invariably deflate. Nobody tell the Gatorade coolers, though.
Cubs sign Jon Jay
The Cubs may have bigger fish to fry at some point this offseason as they try and sort out an overstuffed roster, but in the meantime they inked ex-Padre and one-time Cardinal Jon Jay to a one-year, $8 million deal. Per the Chicago Tribune's reading, Jay's signing probably signals that Dexter Fowler will inevitably end up elsewhere, with Jay forming the lefty side of a platoon with youngster Albert Almora, who you may remember from scoring the game-winning run in Game 7 of the World Series. Last year in San Diego, Jay was his typical self, hitting for a high average and walking just enough while providing decent defense in the outfield. The Cubs will wager that decreasing his at-bats against lefties will boost his overall hitting line, though Jay has been platoon-neutral throughout his career.
Thank you for making it to the end of this very long Hot Stove post. As a reward, I can exclusively reveal that the Angels have traded Mike Trout to the Yankees. I'm sorry.