Tell Me When It's Over is an interview series in which we ask former athletes about the moment they knew their playing days were over. Today: Jeff Fryer, teammate of Hank Gathers and Bo Kimble at Loyola Marymount and a record-setting NCAA tournament sharpshooter.
Fryer first played in the NCAA tournament in 1988 alongside teammates Gathers and Kimble. After notching 17 points in a first-round win over Wyoming, Fryer scored a team-high 27 in just 18 minutes when the Lions lost to North Carolina two days later.
In 1989, Fryer set a still-standing NCAA tournament record with 22 three-point attempts in a first-round loss to Arkansas. In 1990, following Gathers's death during the West Coast Conference Tournament, Kimble and Fryer led the Lions all the way to the Elite Eight, with Fryer setting another tournament record with 11 made threes in a 34-point win over defending champion Michigan.
He now works as an investment banker and runs the Jeff Fryer Basketball Academy. Loyola Marymount has not been to the NCAA tournament since his and Bo Kimble's last game.
* * *
My dreams were to be the best I could be. I knew I had a skill. It came naturally to me to be able to shoot the basketball. So I really worked at it, but at some point I became a lot better. I just improved a lot. But growing up I didn't have any dreams of being, you know, a star basketball player. At some point, though, I did recognize that I could earn a scholarship, and that really helped pave the way for me to get into college and to get an education.
G/O Media may get a commission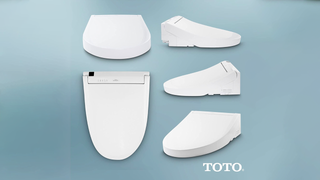 44% off
Toto Washlet Electronic Bidet Toilet Seat
I believe it was a gift from God, for sure. I mean, He blesses people with different gifts, and that was one of mine.
I used to play with my older brothers in the backyard. We had a hoop in the backyard and all of their friends would come over and I improved that way, too, because they were bigger and stronger, and I had to shoot outside to make a shot. If I took it inside they'd just block me or rough me up or something.
* * *
It was a different kind of atmosphere, because of Hank's passing and that kind of thing. It was a different atmosphere because we just had a victory over New Mexico State and we were pretty confident. Well, I was pretty confident. But Coach just said to all of us before the game, "You know, guys, bombs away." And he gave us all the green light to shoot. Which he usually did, but especially this game he did.
It was a life-changer. One of our boosters came up to me after the game and said, No one can ever take this away from you. You know, the 11 threes and the big win and that kind of thing. And I just remember that. And it has changed my life in that people remember it—they remember that season, they remember that game, and they remember me.
That was actually also a problem for me, too, having that as my identity.
That's what I figured my identity was for a long time. But it's not. It's not my identity in the long run.
* * *
I played two years in the CBA, and then I went to Germany for three years, and then I went to Australia and played briefly down there. And that's when I hung it up. It wasn't really my decision. I had some issues.
I was in Australia, but I had been down there for about two months or so, and things weren't going as well as I had expected, and I actually had some health issues. I ended up coming home, and my career was suddenly over. And so, you know, it wasn't a great time for me. I was down in the dumps, and I had to actually come down—I had to come on down to my knees and surrender to God. That's part of my story and that's the best thing that ever happened to me in my life—submit to God and surrender to him, because things weren't going as I had thought. My identity was basketball. And from that highlight of the Michigan game it seemed like things were just, you know—it was great to play basketball for a living, for sure, but it wasn't the greatest either.
I hit rock bottom, for sure. And I had nowhere else to turn, really. Well, I did, but I turned to Jesus Christ as my Lord and He changed my life forever.
* * *
I had the itch to go back and play again, and so I played two more years in Germany after that. I thought it was the end, when it wasn't.
I just wanted to make it more of a fun thing, rather than have all the pressure. And so I went back and I played in a lower league there, and I just had fun with it. So yeah, three years later, when I played again, I stayed over there for two more years and then ended on, you know—it was more fitting. For me.
I figured I would just coach when I got back, because it's a little bit easier transition. So I did coach. When I got back I coached at a high school, then I coached college for a little bit. Then I just decided that I didn't want to travel around as a college coach and move all the time. I wanted to stay in one place. Because as a basketball player you're traveling and living in different places and you don't have much stability as far as living places and building those true, good friendships and that kind of thing—relationships. I really wanted to live in one place.
* * *
I think I gave it my best shot. You know, I have no regrets. Actually, being in training camp with the Suns and playing in the summer with the Rockets, I was just thankful to be there. It was really an eye-opening experience for me, because I never expected that as a kid. You're playing with these guys that you see on TV all the time, playing in the NBA. It was just a thrill to be there. And I was actually playing my best ball ever when I was with the Suns, and with the Rockets a little bit, too, but with a short guy like me, it would have to be timing, the right place at the right time, and it just didn't work out that way.
It's not always easy, but you know He gives me a future and a hope. And that hope isn't just being a basketball player. It's a hope of Him and a hope in having a future on this earth and for eternity.
Last year Rob Trucks interviewed current and former D-I basketball coaches Jay Wright, Mike Adras, Charles E. Ramsey, Murry Bartow, and Kevin Stallings as part of his oral history of 49-year-olds. His other work for Deadspin includes interviews with former NHL goalie Clint Malarchuk and the late Dave Duerson, and an oral history of Big Star co-founder Alex Chilton's time in Tuscaloosa. You may e-mail him at trucks@deadspin.com or follow him on Twitter at @tusktusktusk. Theme music and video courtesy Steve Wynn.