It wasn't really supposed to happen like this. French teen sensation Kylian Mbappé was slated to be this summer's headlining transfer, with the usual suspects in Madrid, Paris, and Barcelona fighting over the right to pay one-sixth of a billion dollars for his signature. Instead, Neymar somehow went to PSG and Barcelona were left scrambling to spend their mountain of cash to replace their star winger. The ripple effects from that one historic deal could prove disastrous for a few teams around Europe, but if anyone stands to gain here it just might be a certain young American superstar.

Almost immediately after Neymar left Barcelona, it was clear the Catalan club had locked their sights onto a pair of young hot-shit attacking midfielders as their preferred targets to fill the void left by the Brazilian's absence. In the red corner, we have 25-year-old Liverpool string-puller Philippe Coutinho, a Brazilian dunk artist with a penchant for the spectacular. Coutinho started as a minor character in NeyWatch, first making a cameo when Barcelona offered Liverpool £72 million in a desperate attempt to surround Neymar with some Brazilian pals to stave off his exit. Since Neymar's storyline reached its conclusion, Coutinho has become the new star of this summer's transfer soap opera.
Barcelona's initial attempt to sign Coutinho in order to keep hold of Neymar didn't work, of course, but the club maintained their interest in the Liverpool man after losing his compatriot. It makes sense that Barça would want to substitute Brazil's best left winger with Brazil's second-best left winger, as Coutinho truly is a great player. He's become foundational to Liverpool over the years, serving as the team's chief creator who can also lump in a good number of goals in his own right. So as rational as it is for Barça to push hard for him, it makes even more sense why Liverpool would resist Barcelona's advances at all costs.
Which has been exactly the case so far. Barcelona first came to Liverpool with that frankly embarrassing £72 million bid and Liverpool immediately rejected it. A little while later Barça returned with £90 million in hand, and Liverpool immediately rejected that, too. And now—just a day after Barcelona's new general manager claimed Coutinho and Barcelona's other big target, Ousmane Dembélé, were "close" to joining the squad in a naked and moronic attempt to distract fans from the asswhooping Real Madrid handed them in the Spanish Super Cup—news has broken that Barça hit Liverpool with an insane £114 million bid, which (yep, you guessed it) Liverpool immediately rejected. Seems that Mr. General Manager has no idea what he's talking about.
Liverpool's position here could hardly be stronger. Coutinho has more than four years left on his current contract and no release clause, so no matter how badly he wants to leave the club (he has formally handed in a transfer request), Liverpool have all the leverage. Barcelona can keep offering increasingly large fortunes for the little attacker, but Liverpool need Coutinho more than Barça do and have no reason to sell.
G/O Media may get a commission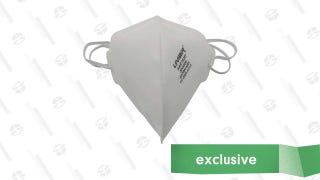 NIOSH CDC-Certified N95 Masks (10-Pack)
Skipping back a little, Barcelona's second main target to usher in their post-Neymar existence is Ousmane Dembélé, 20-year-old French genius currently playing on the wing for Borussia Dortmund. Like Coutinho, Dembélé really wants to go to Barcelona. Unlike Coutinho, there's a really good shot he will. While a convenient (and dubious) back injury has meant Coutinho has thus far sat quietly on the sidelines these past few weeks as speculation around his future swirls, Dembélé is in open rebellion against his current club. At the height of the transfer intrigue surrounding Dembélé, the young winger just stopped showing up to training one day and wouldn't answer anyone at Dortmund's calls. Since then he's been suspended by the club and called out by his teammates, and yet he's still just been chilling at home waiting and praying for this thing to get wrapped up.
It's unfortunate how Dembélé has decided to make this thing so ugly now by setting fire to all his bridges with BVB, but it also makes a lot of sense. It's not every summer that the club of your dreams decides to move heaven and earth to bring you to their home, promising you an immediate starting spot which presumably you'd hold for the next decade or so, first joining the group as a partner to the likes of Luis Suárez and Lionel Messi and later, if everything goes well, as the Argentine God's direct successor. Dortmund is a good club and all, but Barcelona is Barcelona. If they come for you, you have to do everything possible to make it happen.
(Though—God forbid—there does exist a plausible nightmare scenario where Barcelona get cold feet and back out of the Dembélé deal, leaving him stranded at the club he has infuriated, quite possibly maiming his burgeoning career to an extent no one can foresee. Hopefully that doesn't happen and either Dembélé goes to Barcelona or BVB allow him to make amends if he stays.)
By all reports, Dortmund (understandably) have not been eager to help Dembélé realize his dream. They have for the most part refused to negotiate a price with Barça, holding firm to their €150 million valuation. This seems at first blush like a grossly inflated and unrealistic sum, but in a world where everyone knows that Barça have €222 million burning a hole in their pocket, it's in fact quite a reasonable ask. Barcelona can afford it, Dembélé is worth it, everyone knows this, and everyone knows everyone knows this.
With PSG paying so much for Neymar, Liverpool and Dortmund and any other team doing business with the desperate Spanish giants can hold out for a king's ransom. This in turn makes the Neymar money something like a hot potato, where any team that gets a chunk of it will have trouble spending it in an economical manner since whichever club that team dials up will know they have lots of money that they are dying to get rid of. It's part of the reason why Southampton are sitting on Virgil van Dijk and asking Liverpool for an exorbitant fee, and why Dortmund won't move Dembélé unless Barca pay through the nose. In a way, €200 million isn't €200 million when everyone knows you have to spend it.
Here is where Christian Pulisic comes in. Pulisic and Dembélé aren't exact analogues but they do tend to occupy the same spaces on the field. Both spent most of their breakout 2017-18 seasons on the right wing, with each man also dabbling in the center and on the left (where vice captain Marco Reus often plays). Pulisic was the first rotation sub for both Reus and Dembélé last season and is comfortable on either wing.
With Reus still recovering from a knee injury that will probably keep him out until the turn of the year, Pulisic was already set to see more playing time at the start of this season. However, if Dembélé leaves, there's no reason why the Wonderteen wouldn't be the every-game starter on either the right or the left for the whole year. Last season, Dortmund brought Pulisic along slowly and he excelled in spot appearances. He turns 19 in a month, so he's still young enough that they could bring him along slowly this year. But if Dembélé moves, that almost certainly means Pulisic will be an even more prominent part of this year's Bundesliga and Champions League campaigns.
And it doesn't quite stop there. Liverpool have already been sniffing around Pulisic for a while now, which isn't exactly a surprise given their American ownership and hiring of BVB mad scientist Jürgen Klopp, who was the coach when Pulisic first signed with the Dortmund youth team. If Barça were to sign Coutinho at any time before the very end of the transfer window, you can bet Liverpool would try to pry Pulisic out of Germany. That might not be the ideal destination for Pulisic in terms of what's best for his career development, but it would be hard for both Dortmund and the Wonderteen to turn down a huge offer from a big club like Liverpool.
So that's what could happen to Pulisic if Barcelona get Coutinho. If it's Dembélé they nab, Dortmund would probably hand the reins over to Pulisic and let kid fly. Should that happen, look out. Pulisic has handled every obstacle and opportunity thrown at him so far, and there's no reason to think he won't thrive given even more responsibility. And while no doubt focused on the present, recent comments by Pulisic do indicate that he has some sort of plan for where his career will ultimately lead.
Whenever asked about his future Pulisic always says he is perfectly happy at Dortmund, and reports out of Germany say he wouldn't think of leaving the club until the summer 2018 at the earliest—which is, oh hey, when the next World Cup is. A big tournament for the stars and stripes—the team for which he'll be the unquestioned fulcrum of by then if he isn't that already right this minute—could see the biggest teams in the world coming in for him. Those in the know have an inclination where that might be. When asked about Pulisic's career intentions in a recent ESPN FC video, former USMNT striker and current commentator Brian McBride ominously hinted that, according to what he'd heard, Pulisic's sights could be set "even higher" than a club like Liverpool. Something like Barcelona or Real Madrid, perhaps? Perhaps!
We've discussed before the rumor that Barcelona had their eye on him and it felt exhilarating and ludicrous. The soccer world is replete with "can't-miss" attacking prospects, all of whom inevitably get linked to Barcelona and Real Madrid as youngsters, very few of whom actually become good enough where that would even be an option. American soccer fans can't help but hyperbolize the talents of our young star because we've never had a player like him. Landon Donovan has arguably had the most celebrated career in American history and on many counts Pulisic has already topped that at just 18 years old. Pulisic's future is blindingly bright, and that's at once thrilling and terrifying.
The Wonderteen is obviously talented and tough, and nothing is certain in soccer. But a move into BVB's starting lineup combined with a good World Cup and Pulisic could be on his way someplace where no American has ever gone before. For now, he's getting ready for Dortmund's season, which starts tomorrow. He is still an 18-year-old quasi-backup, so whatever dreams he and the American soccer fan base have of Pulisic winning La Liga titles are at this moment still just fantasies. But the pieces are moving into place for something special to happen. Thank God for Neymar.