Welcome to NeyWatch, a series in which we catch up with the daily, often contradictory updates on the hottest story of the summer.
You may have heard that Neymar is definitely going to stay in Barcelona. You also may have heard that Neymar is definitely going to leave for Paris Saint-Germain. That's because nobody knows for sure whether Neymar will stay or go, not even Neymar himself. Reports do say, however, that Neymar is clear on one thing regarding his future: Wherever he ends up, he wants it to be alongside his Brazilian buddy, Philippe Coutinho.
Right as the hysteria about what then felt like Neymar's imminent departure from Barcelona, the Blaugrana club put in a seemingly out-of-the-blue bid for Liverpool attacking midfielder, Coutinho. Barcelona have long been rumored to be interested in the versatile, creative Brazilian, so in that sense the bid wasn't entirely shocking. Instead, what did make their reported €80 million offer so surprising, and frankly embarrassing, were the circumstances surrounding.
As reporters in Spain and Brazil picked up on the scent of Neymar's discontentment, they began sniffing out reasons why what by all appearances was a perfectly happy relationship had come right up to the brink of ending. One common thread in many of the stories was that Neymar didn't have many close friends in the Barça squad, especially not of the Brazilian variety. The only Brazilians currently in the squad are Douglas, who was an utterly baffling signing when he joined in 2014 and is nowhere near good enough to play for Barça and will probably not be at the club much longer, and Marlon, a young and unknown defender just coming up from the B team. (UPDATE: Barça also have Rafinha, a rotation midfielder who might be on his way out.) PSG, meanwhile, have a ton of Brazilians on the roster, including guys like Dani Alves, Thiago Silva, Marquinhos, and Lucas Moura, all of whom are or have been regulars alongside Neymar in the Brazil national team. If Brazilian buddies are what Neymar is after, PSG have a decided advantage.
A more specific apparent frustration of Neymar's is that Barcelona haven't gone out and signed any of the Brazilian playmakers Neymar has reportedly requested they go after to appease his desire to be surrounded by fellow countrymen. It was this disclosure that clarified what had been probably the most puzzling aspect of Barcelona's summer transfer window: all the reports that they were seriously going after the likes of Coutinho (a great player who nonetheless doesn't really fit Barça's style of play), Paulinho (another ill-fitting player who flamed out at Tottenham a couple years ago and left Europe for the awful but high-paying Chinese league—though to be fair, he has looked pretty solid in international play with Brazil), and Lucas Lima (a personal friend of Neymar's who's not even all that good in the Brazilian league and thus would've rivaled the aforementioned Douglas's signing as the most bizarre addition to Barça squad in years).
G/O Media may get a commission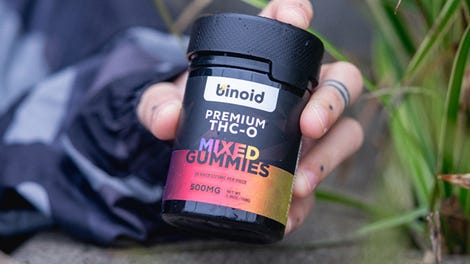 25% Off + Free Shipping
Binoid THC-O Gummies
Seeing Barcelona go after those three players was head-scratching (though again, Coutinho to a much, much lesser extent) in the moment, and only made sense once you realized the club's chicken-shit board was after them to make Neymar happy so that he wouldn't think about leaving. Luckily for Barça fans, the board is often as incompetent as it is chicken-shit, so the club bungled its way out of signing Paulinho and Lima.
However, when it became clear last week that Neymar was dead serious about possibly trading Barcelona for Paris, the board panicked and plopped out that random bid for Coutinho in a move that could only be read as a sad attempt to beg Neymar to stay. Liverpool didn't take the bait and rejected the bid, as they have neither any interest in nor any need to sell one of their stars. And while Neymar is now closer to staying at Barcelona after the efforts of Messi and Suárez and Piqué to talk him out of leaving, he is not done making the incompetent, chicken-shit board dance for his pleasure.
A report from Brazilian TV station Globo Esporte says that Neymar is after at least some sort of compensation from Barcelona before he will officially commit to staying. (The report also notes that Neymar had no idea Piqué was going to post that now famous "He stays" picture of the two, and that while Neymar still hasn't definitively made his mind up about if he wants to leave or not, he's not all that bothered that his friend made that premature announcement, either; that fact implies Neymar, to some degree, likes all the attention that comes with being the belle of the ball and enjoys teasing each of his suitors—something that other facts we'll bring up later seem to support.)
Neymar's dad tried to squeeze a new contract out of Barcelona after it became clear that his son was leaning closer towards staying than going. The board refused, citing a lack of funds and that they'd just given him a better contract the season prior. In lieu of a new contract, then, Neymar is reportedly still pressing Barcelona to sign at least Coutinho, and maybe even Paulinho as well. Hence reports from England that Barcelona are planning on coming back again for Coutinho with an improved offer.
All this talk about Barcelona shouldn't distract from the fact that PSG are still in the running here, too. And even though the Parisian club is already prepared to make Neymar the highest paid player in the world and obliterate the world record transfer fee to sign him and surround him with all the countrymen and friends he covets, Neymar is still requesting that they too show him how badly they want him by insisting on a series of roster moves—most notably, that they go and get Coutinho.
It's Le Parisien that has that news, reporting that on top of everything PSG have already offered Neymar, the player has a list of personnel requests before he'll commit: He wants PSG to sign Coutinho, sign Arsenal forward (and former Neymar teammate at Barcelona) Alexis Sánchez, and also retain the services of current PSG winger Lucas Moura.
PSG have been after Sánchez all summer, but Arsenal have been steadfast in their resistance to selling him to anyone. They've yet to kick the tires on Coutinho, and it's difficult to see how or even why they would make that deal, since he'd be incredibly expensive and doesn't have a natural fit in their projected lineup. And while keeping Moura wouldn't be that hard, they also do need to keep an eye on their wage bill. If Neymar does end up there, PSG will need to free up some salary space in order to sign him without running afoul of the Financial Fair Play regulations. Getting rid of Moura's relatively hefty contract would go a long way to making that happen.
Thus we have two of the biggest clubs in the world falling all over themselves in an effort to indulge the whims of a single player. Not only that, but the shiniest trinket they could potentially wave in Neymar's face to entice him their way—Coutinho—is exceedingly unlikely to be obtained by either party. Liverpool are adamant that they don't want to sell him, at any price. Oftentimes that doesn't mean much when a club like Barça come calling for a player on a club like Liverpool, but in this new ultra-rich Premier League, Liverpool have such enormous reserves of financial strength that they should manage to parry away any attack. Plus, Coutinho is by all reports very happy in England and doesn't seem likely to publicly agitate for a move in the way that would be necessary for a player like him to leave a team that doesn't want to sell.
In any case, Neymar is sitting pretty in the center of all this, playing both sides against one another, knowing full well how important he is to them and that his wish is their command. Not even Decision-era LeBron had this kind of power to bend teams to his will. I know he's probably too caught up in his problems to keep up with this saga, but if LeBron could see the triumph of player power Neymar is currently displaying, he'd probably shake his head and applaud in awe and appreciation.