Those intrepid internet lurkers over at Busted Coverage found this one, and we have to agree: Once we saw these photos and considered where they came from, all we were left with were questions. The photos were tweeted by a girl who appears to have been visiting New York City this weekend from parts unknown. But that's all we've got. Well, that and the photos were posted approximately two hours apart on Saturday night in what looks like some sort of room at a hotel.
So ... huh? What was going on? Where exactly was this? What was everyone doing? Why was this girl there? And where did Tebow get that T-shirt, which states an incorrect acronym for ESPN (and which he's worn before)? Several of the girl's followers tweeted at her to ask how she got to hang with Sanchez and Tebow, but she didn't provide any answers. All we have to go on are the girl's relevant tweets from the weekend, which you can read below. Know anything? You know how to reach us.
Update (6:02 p.m.): It looks like Haley's father is Bill Horn, who has worked as a sports marketing agent and who co-founded a charity called Pros for Africa. Now it all makes sense, even if it's not all that much fun.
Update No. 2: Haley confirms that's what it was.
G/O Media may get a commission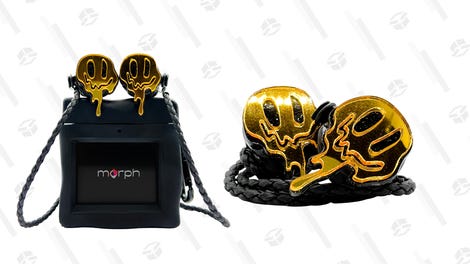 morph audio
Morph Earphones