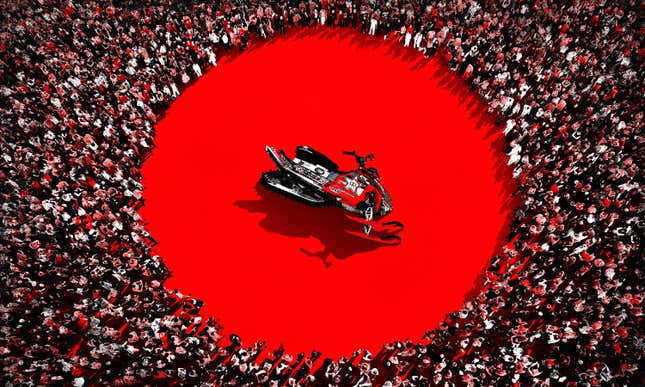 There's always buzz in the weeks leading up to the X Games about what insane, unprecedented maneuvers you might see. Max Parrot might try the quadruple underflip. Marcus Kleveland may go for the first quad cork. The 1620 is the new 1440. These promises, of things we've never seen before, are the reason we watch. They're what people tune in for at home and stand outside in 2-degree weather in Aspen to witness firsthand. In contrast, when I heard that Colten Moore was going to attempt a double backflip on his snowmobile, all I could think was, "God, no man, please don't do that."

Air Jordans are more American than McDonald's French fries | Deon Cole's Ultimate Sports Fantasy
If the name "Moore" and snowmobiles ring a bell, it's likely for sad reasons. In 2013, Colten's older brother Caleb became the first, and still the only athlete to die at the X Games. Caleb was going for a "routine" backflip at this end of his snowmobile freestyle run when he under-rotated and caught the nose of his sled on the landing. Caleb was flipped over the front hood of the machine and was slammed violently to the ground, and then the 450 pound snowmobile landed on his chest. He walked away, but his heart was bleeding and he went into cardiopulmonary arrest which deprived his brain of oxygen. He became unresponsive and died a few days later. Younger brother Colten (who was 23 at the time) crashed on the exact same jump just moments after his brother and was sent to the hospital with a separated pelvis.
Caleb's death remains the biggest tragedy in the history of the X Games. ESPN's response was to cancel the snowmobile Best Trick competition, which was an odd choice, since the fatal injury occurred in the Freestyle competition, not Best Trick. In fact, the Freestyle comp resumed the very next year, and Colten Moore won it, dedicating the win to his deceased brother. Three years later, though, X Games decided to bring back Best Trick for the 2017 games in Aspen, and shortly thereafter it was announced that Colten would attempt to land the first double-backflip in competition. I winced when I heard it.
Colten wasn't the first to attempt the double at the X Games. That distinction goes to Levi LaVallee who first went for the trick at X Games 13 back in 2009. He made both rotations but was bucked off on the landing. In fact, Colten wasn't even the first rider to attempt the double at this year's X Games. This last Sunday, just a few riders before Moore, Heath Frisby (age 32) went for it, but he slightly under-rotated and came down skis first. He was thrown from the sled but walked away uninjured. His snowmobile was badly damaged, and had to be removed with a forklift. He didn't make a second attempt.
Moore's run went far worse.
The jump started off well. The 27-year-old came charging in with plenty of speed and rocketed into the air, going higher than any of the other riders. This ended up being a mistake. Not only did he end up over-rotating, but he flew past the optimal section of the landing. This meant that all that extra height came down into a relatively flat section, and was absorbed instantly into his body. In the slow motion replay you can see the tremendous amount of shock that compresses his torso.
Moore fell off the sled and lay on the ground, writhing in pain until he was carried off in a stretcher. He was rushed to a local hospital by ambulance before being transferred to a better-equipped hospital to undergo emergency surgery. No detailed information about his condition has been released, but if I were to hazard a wild-ass guess, I would bet he'd crushed some vertebrae, maybe broke some ribs, and/or possibly re-injured his pelvis. It looked awful, and it brought me right back to 2013 when I saw a snowmobile land on his brother's chest. All I could think was: Why are we watching this again?
Progression is natural to sport. Essential, really. In the Olympics we see world records broken every four years as athletes get faster. In the world of the X Games, athletes have to go bigger. That means more height off the jumps, more rotation in the air, and yes, more flips before they hit the ground. Most of the time it works out. Max Parrot nailed his quadruple underflip. Marcus Kleveland landed the first backside quad cork in competition history and rode away. Sometimes it doesn't work out.
In this year's Big Air Ski competition, Luca Schuler caught an edge and hit his head hard on the ground. Watching his lifeless body slide the rest of the way down the landing was viscerally upsetting. He looked dead. Luckily he was just knocked out. He was taken to the hospital and treated for a standard concussion. A handful of skiers and snowboarders in the superpipe competitions misjudged their jumps and hit the coping on their way back down to earth. None were seriously hurt.
Since this weekend I've been asking myself where the line is drawn between natural progression and stupidity? How do we differentiate acceptable risk from negligence when we're dealing with extreme sports, where risk is inherently part of the equation? At what point does it cross over from entertainment to exploitation?
We all have our biases, but I keep coming back to the snowmobile itself. At 450-500 pounds, riders are essentially clinging to a wrecking ball as it flies through the air. It's a complex machine that has a wide variety of ways it can fail at a critical moment. It just adds so many dangerous variables to the equation. Want to race them? Fine, I get that. But at least if something goes wrong in a race the rider isn't upside-down and 40 feet off the ground.
Sweden's Daniel Bodin ended up winning the gold in the 2017 Best Trick competition. One week before that, he had become the first person to land the double-backflip in a practice session. He hurt his shoulder and knee on his successful attempt, so he was unable to go for the double at X Games. His medal-winning trick was something far easier, but still sketchy as hell. In an interview after the win, he said the medal really belonged to Moore and to Heath Frisby for what they had been through.
I left the X Games this year thinking about what drives these athletes, especially Moore. I remembered reading a touching piece in the Denver Post centering on the Moore family in the small town for Krum, Texas, population 4,157. It illustrated mother Michele's distress as Colten got back on the snowmobile after Caleb's death, just after Colten's own broken bones started healing. It quoted Colten as feeling that his brother is now "riding right there with me." I also remembered hearing a rumor a year or so ago that the father, Wade, was considering getting into snowmobile competitions as well, though I was never able to confirm it was true. I'm sure the snowmobile has brought a lot to the family in the form of prize money and sponsorship deals, but I couldn't help but think of what it had taken away.
In that Denver Post piece Colten tells his father, "Yeah, I want to ride, because Caleb would want me to ride. When I ride, I feel closer to Caleb." Caleb is obviously in a better position to make assumptions about what his brother might have wanted than I am, but I can't help but think that Caleb probably wouldn't have wanted his younger brother to break his back. He definitely wouldn't want to leave his parents missing not just one son but two.
I want to say that I hope ESPN decides to pull snowmobile best trick and freestyle, and make it permanent this time. There's money to be made there, so it can't be an easy decision, but I think the events add more unnecessary danger than excitement. This doesn't mean that guys won't keep trying to pull bigger and crazier stunts—of course they will—but at least when they fail (of course they will) it won't be broadcast on live television. Leave it to YouTube. Not all desperate risks need to be sanctioned by a major broadcaster for the sake of profit, and not all snuff films need to air on basic cable.
But then I try to put it into the context of the bigger picture and things get murky again. ESPN does not publicly share information on X Games injury statistics, but they're almost certainly far lower than the numbers for the NFL, UFC, or professional boxing, even per capita. So why have I joined the hand-wringing over this? If a handful of idiots want to ride their snowmobiles into oblivion, who am I to say they shouldn't, regardless of whether they're doing it for fame and fortune, or to pull their families out of debt, or to prove themselves to the world, or even just because it's fun?
I am a lifelong, unabashed fan of the X Games, but a large part of me hopes these will be the last Snowmobile Best Trick and Freestyle competitions. Even if not, they might be my last. I really just don't want to see it anymore.
---
Brent Rose is a freelance writer and filmmaker, currently traveling the U.S. living in a high tech van, looking for stories to tell. Follow his adventures on Instagram, Twitter, Facebook, and ConnectedStates.com