If there's one good thing about the handful of great players plying their trade in Russia—and it would be the only good thing, mind you—it's that their home Champions League ties often start a few hours before the rest. That timeslot gives their abilities at least a modicum of the attention they deserve yet so often miss out on because of the difficulty of following their domestic league.
Today's early Zenit-Monaco match is a perfect time for the soccer world's eye to focus on one particular player whose talent has gone criminally overlooked. We're talking about the most consistently great Brazilian not named Neymar: Zenit's Hulk.
Hulk's entire career has been colored by who he was and where he was at any given point in time. As a young, talented (but not outrageously so) player in Brazil, he was seen as a potential meal ticket to be dragged around the world to maybe hit big on his potential, but at least offer some kind of return on investment. Givanildo Vieira de Souza's economic rights were purchased by a third-party ownership group when he was a youth player. He was at one point shipped off to Portugal, then brought back to Brazil when that didn't work, and eventually landed in jogo bonito-mad Japan.
In Japan's second-tier league, Hulk was a precocious yet already dominant youngster with a childhood nickname that seemed destined to be put up in lights, and a budding game that could make it so. He was a hulking Brazilian in Japan who was really called Hulk, who really did hulk-smash the ball with his nuclear-powered left foot into the back of his enemy's goals, and who really did stomp around and smash any defense put in front of him. In 2006, he missed winning the league's golden boot by one goal. In 2007, he outscored the man in second place by eleven. Because of all this, he was a cult figure in country—well, at least as much as a lower-league soccer star could've been.http://www.youtube.com/watch?v=U-krW0…
After showing such dominance in the respected Japanese system, Hulk returned to the site of his first foreign forray when Portugal's Porto bought half his rights from the third-party owners for €5.5 million. The investment paid off immediately.
In his first season there, Hulk helped the club retain their league title, scored eight goals, formed a deadly partnership with striker Lisandro López, and individually was named breakout player of the year.
G/O Media may get a commission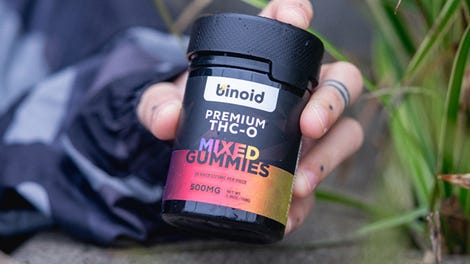 25% Off + Free Shipping
Binoid THC-O Gummies
The next season saw Lisandro sold off to Lyon, and while Porto could not capture their fifth Primeira Liga title, they did feature quietly one of the best forward lines in all of Europe with Hulk and new striker Radamel Falcao. It was a lethal, extremely direct attack, with Raul Meireles and later João Moutinho winning possession, fizzing the ball up to Falcao for him to lay off to Hulk, Hulk melting the defense with his blistering speed and world-class dribbling, then either playing a neat through ball with his underrated passing for Falcao to finish or cracking a shot of his own from whatever distance he wanted. No matter which poison you picked, death was assured. In their first year together, Falcao scored 34 goals in all competitions. In their second, Hulk scored 36.
While all of this was happening, teams around Europe were taking note, even if most soccer fans weren't. Porto's first-year manager during that second Hulk-Falcao year became the hottest name in world soccer, and pretty much carried the success of that undefeated Primeira in the Primeira and Europa League trophy-winning season to Chelsea, then to Tottenham, then to Zenit despite never quite matching those early heights. Yes, André Villas-Boas is where he is and where he has been in large part because of Hulk.
The first of the big-name players to move on was Falcao, who was bought by Atlético Madrid. WIthout AVB and Falcao next to him, Hulk still managed to score 16 times in 26 league appearances, and lead the team to its third Primeira title in four years. Speculation about where he'd end up next was constant. The most common name mentioned was Chelsea, at the time lead by his old manager AVB, but all of Europe's big teams were sniffing around the 25-year-old winger.
At the same time as everything was going so well for Hulk at the club level, he also started getting more looks internationally with the Seleção. Brazil were short on in-form wide players during the transition period away from the Ronaldinhos and Robinhos and toward a younger group that would hopefully lead them to glory during the 2014 World Cup on home turf. Hulk seemed a perfect fit and in the aftermath of the 2010 World Cup, Hulk became a regular member of the lineup in 2011.
Things never went as swimmingly for country as they had for his clubs. Brazilians are naturally distrustful of talents they haven't witnessed and vetted with their own eyes, so while fans were intrigued by what this typically Brazilian winger( pacy, flamboyant, and direct) who was shutting shit down in Europe could do, they were quick to point the finger at him when things went wrong.
Hulk was unlike most of Brazil's stars, having spent his formative years abroad. His country didn't feel any ownership of him. Ronaldinho started as a rumor—have you guys heard about the kid dribbling past entire teams in Grêmio's youth team?—and spent seasons flashing glimpses of his unlimited potential before going off to PSG and beyond. A young Robinho so wowed his countrymen as a teen with his ballerina-like footwork that could humiliate grown men that, to this day, locals demand his inclusion on the national team despite never reaching anything close their projections of his ability in his years in Europe. Hulk was the opposite. Yeah, he had actually proved his worth week-in, week-out and year-in, year-out, but since his compatriots didn't know him at his youngest, he was looked at skeptically.
To be fair, though, he didn't exactly help himself when donning his nation's colors. Hulk at times struggled playing for the defensively-minded coaches of Brazil. He was never considered one of the team's stars, so he was asked to do more of the dirty work than he was used to for his clubs. His attacking forays as a result. At times it looked like the fan and media reaction had him overthinking things. He'd pass when he should've shot, and shoot when he should've passed.
Not helping matters was the whole 2012 London Olympics mess. I hesitate to call it a full-on debacle, since Brazil did get to the gold medal game by handily defeating all challengers in the lead-up, yet they still had to settle for silver in a tournament they desperately wanted to win and in which they fielded easily the competition's strongest side.
Hulk followed up the disappointment in London by finally getting that long-discussed transfer away from Portugal. In the summer of 2012, after years of links to all number of prestigious, Champions League teams, Hulk was taking his talents to ... Russia's Zenit St. Petersburg?
Really?
It was a bit of a letdown, to say the least, though probably not from Hulk's angle. Zenit were one of the richest teams in what was looking like a resurgent Russian Premier League, with teams like Anzhi Makhachkala and CSKA Moscow, backed by sugar-daddy ownership groups, throwing bags of money around. Zenit were amassing a number of young, talented internationals and offered a huge salary and Champions League football. At the same time, Hulk didn't exactly have too much say in where he went after Porto, since a substantial percentage of his economic rights were owned by a third party, so Zenit's €60 million bid was more attractive economically than any smaller offer from a team in a stronger league.
Still, the move was a disappointment to Hulk's many admirers, who wanted the world to finally appreciate his brilliance by unleashing him on the world's biggest stages. Even with all that new money, nobody watches the Russian league. The best hope for Hulk's fans to see the man in action was during whatever number of Champions League matches Zenit could fight their way into. His bank account might've grown, but Hulk was less visible in Russia than he had been in Portugal.
The Russia experience didn't start happily for the Brazilian. Again, it was a question of who he was, where he was. As Zenit's new star player, alongside fellow new signee Axel Witsel, Hulk was making tons of money. Almost immediately, this caused strife in the lockerroom. Club captain Igor Denisov was benched, it later came out, because he demanded a new contract more in line with what Hulk and Witsel earned. The club refused, so Denisov went public. That row resulted in Denisov being sold from the team he had spent his entire professional career with.
More worryingly than his teammates reaction to his presence, though, was that of the Zenit fans. Zenit's largest supporters group released an open letter to the club, telling them not to sign black (Hulk and Witsel both are mixed-race) or gay players to the team in order to protect the proud and intolerant history of Zenit FC.
In part because of this racial animus, in part because of the unrealistic expectations huge transfer fees bring, and in part because the team wasn't performing as well as the previous, league-winning side had, Hulk became the scapegoat. Fans singled him out for scorn. He even had a falling out with the team's manager, Luciano Spalletti, and sought a transfer in the January window. Only months after coming to Russia, he was scrambling to get away.
The transfer never materialized though, for a couple reasons. FIFA doesn't allow a player to be registered for two different teams in the same season, but a team would have also had to shell out something equal to or greater than what Zenit paid for him, which didn't look likely. In any case, Hulk and the club eventually made up and Hulk played on.
It wasn't a bad opening season from him by any means. He scored 11 goals in 30 appearances and was often the team's best performer. But like his experience with the Brazilian national team, he was never embraced for what he actually produced because of convoluted reasons having nothing to with how he played.
Zenit fans are still like any other fans, though, at least in the sense that they can be won over by improved play. And man, did Hulk come out with something to prove in his second season with the club. Last year, Hulk scored 17 goals (one less than the league high) and assisted 6 more in 23 league appearances, helped the team advance out of the Champions League group stage for their first time in history, and almost lead their late-season push at the Premier League title under the management of old Porto boss AVB.
After last season, no Zenit fan even in their twisted little minds could deny that Hulk was the club's and league's best player. He's the team's best scorer, the team's best dribbler, possibly it's most creative passer, and is the focal point of every opponent's defense, attracting so much attention that it frees up his fellow attackers to do their thing.
He's off to an even more ridiculous start this year, too. Just in the league's first nine matches, he's already scored five and assisted five. He helped them navigate through the Champions League playoff stages and opened the scoring in their first group stage win over Benfica. Hulk could walk into almost any team in the world and immediately be one of its best players.
And yet, he is still overshadowed. He didn't help his cause any as a key cog on what ended up being a disastrous Brazilian World Cup team. Hulk did not perform as well as he should've, and it again looked like the fans' familiar calls for his place in the lineup had him thinking more than reacting. His relative failure on that stage, coupled with his uniformly excellent displays in Russia probably means Zenit will remain his home for the rest of the 28-year-old's prime. For most fans, these annual handful of Champions League fixtures will be the last opportunities we have to admire what he can do with a soccer ball. Even when it's not one of the day's marquee matchups, you should take the opportunity. It'll be worth it.
Photo Credit: Getty Images