It's not just that you can't always get what you want—sometimes, once what you want finally materializes, you wonder why you ever wanted it in the first place.

Jokic? Embiid? The NBA MVP is obvious... right? | Keep it a Buck(et)
Last month in D.C., I wanted to watch a matchup between Alexander Zverev and Nick Kyrgios, for a cluster of reasons. They're the two most gifted men under 25; the last time they played they set the court aflame; and they offer a perfect stylistic contrast. Zverev does everything right: moves his feet, plays with immaculate technique, makes the smart decision, knows and respects his limits. Kyrgios is a wayward talent, seemingly indifferent to the results of the match so long as he gets off court as soon as possible, and he is capable of the most amusing tricks ever seen mid-match, little masterworks of apathy and racket mastery.
But that matchup didn't happen in D.C., because Nick Kyrgios retired from his third straight match, this time with a shoulder injury, while down 3-6, 0-3 against Tennys Sandgren, the Pizzagater with the cute name. Sandgren advanced, only to get wiped out by Zverev the next day. It was disappointing, given the match that could have been.
When that match actually arrived in Montreal last week, maybe it didn't feel worth the wait. It came tantalizingly close to delivering on promise, retaining interest until the end, almost cruelly, because by then it wasn't worth the emotional investment. At least the first set didn't feel like a foregone conclusion:
Kyrgios found himself wandering up to net, over and over. Because he is so casual on the court—casual to the point of indifference—he tends to break from the usual grammar of the sport, diverge from usual patterns of baseline play. Basically: he can throw weird shit in the opponent's face and force him to improvise. Once the game is on those terms, thanks to his soft hands, he's almost always going to be the one who's more comfortable improvising. Often this "tactic" works. Often it is stupid. Sometimes it's both. Consider the full spectrum below.
G/O Media may get a commission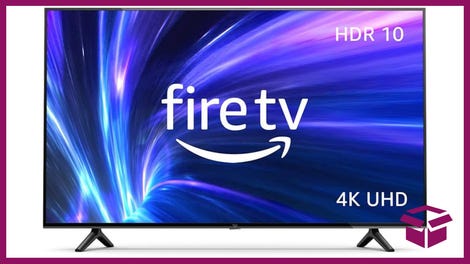 42% Off
Amazon Fire TV 50" 4K Smart TV
Let's start with glorious, but reckless:
Here's smart, with a buttery lob to follow:
But who would think to rush the net off this shot?
Or off this dumpy approach? And he nearly got away with it, too:
This contrast is what makes the notion of this rivalry so fun. Zverev is the Platonic baseline crusher, given an upgrade for the physically freakish future: gorgeous groundstrokes, but also 6-foot-6 with smooth lateral movement, and very comfortable deep in the court teeing off on high, heavy balls. These are bread-and-butter points for him, and he will win majors off them:

But Kyrgios is the rival who could squeeze him out of his comfort zone, who could tempt him to net and force him to get resourceful. Zverev already projects to be the best overall player of his generation. Kyrgios jokes about being a misfit in the forecourt, but in reality, he could be the best all-court player of his generation, following his huge serve to the net and plucking volleys out of the air and half-volleys off the ground, exploiting his pure feel for the ball.
Kyrgios had his break chances in the second set, and eight overall, before getting consumed by that familiar mix of physical, emotional, and spiritual malaise that has knocked him out of so many other contests. By match point, he was basically jogging up to concede while the ball was still in play. Well before that point, I wondered why I had wanted this at all. For how much longer would these matches be fun? How long can this be plausibly called a rivalry if one has won as many titles as anyone else on tour, while the other continues to languish? They can only diverge so far before becoming apples and oranges. (Good, shiny apple; sad, sour orange.)
The tour remains thirsty as ever for this rivalry to crystallize. After every meeting, it quickly bundles up the sweetest moments into a neat highlight reel. Both are flashy on-court—one by nature, the other when the occasion calls for it—and charismatic enough off it, more than capable of handling themselves in an interview. This profitable, worthwhile narrative could buoy the men's game through the rocky post-Federer, post-Nadal, post-Djokovic years. Every producer must see the perfect tropes of fire vs. ice, bad boy vs. good kid, natural genius vs. hard worker. (Even though, as always, these clean binaries are pretty stupid. Frankly, they're both pretty fiery, and both blessed with gobs of talent.)
Zverev, who relishes the attention of big stadiums and is slowly learning how to feed off the crowd with a showman's flair, seems to wants this rivalry too. Aside from being world-class ball-striker, he's a savvy kid who understands the hype cycle and seems happy to play into it, so long as he doesn't need to actually get hands-on with the mess of Twitter or anything like that. "I think apart from the Big Four playing each other, me against Nick or me against Dominic [Thiem] might be one of the biggest matchups in tennis, for the media, for social media, and for tennis fans. I know there's a lot of talk around it, and a lot of expectations on us," he told reporters in D.C.
Zverev has also held up his end of the bargain: Now he's in the top 10, winning so much that he loses from the exhaustion of winning. Now he's out of Cincinnati, leaving one of the weakest Masters fields in recent memory. Kyrgios is clear to the quarterfinal and could theoretically take a crack at the title, but it looks as though he'll have to fight through Rafael Nadal, a feat he hasn't managed since his breakout Wimbledon upset in 2014.
With two straight titles this month, Zverev is capitalizing on his talent; Kyrgios is caged in by his. I have no idea what it feels like to be good enough at something to feel fully trapped in that pursuit, unable to get out and do whatever you actually care about. But that appears to be the emotion that is stunting the best potential rivalry in men's tennis in this coming decade. "I actually envy him in a way. He does all the right things. He's very professional. That's obviously something I don't quite tick the box for," said Kyrgios of his friend in May. "He's going to have a great career. He's younger than me as well. It's going to be exciting to watch him play. I'm sure I'll play him a lot more times." I'm just hoping those meetings are as telegenic and incandescent as we all know they can be.