Every morning, the fine folks at Sports Radio Interviews sift through the a.m. drive-time chatter to bring you the best interviews with coaches, players, and personalities across the sports landscape. Today: McMahon remembers the administration's hypocrisy.
The best sports movies according to Toheeb Jimoh
Jim McMahon joined WQAM with Gino Torretta and Steve White to discuss what was his reaction was to Brandon Davies being dismissed from BYU after violating the honor code, how much has the honor code changed since he went to BYU with the advent of the internet, if Jimmer Fredette violated the honor code would he have been thrown off the team, did he know the honor code existed when he first decided to go to BYU and does the administration abide by the honor code that the students are under.
We've been talking about the honor code and Brandon Davies. We know it's BYU, but what is your reaction?
"That doesn't surprise me. It's been going on for years there so. I actually just read that on the ESPN deal you know he [Brandon Davies] got kicked out for having sex with his girlfriend. That's part of their code I guess, but I know it happens. I know it's been happening for years, but some guys get caught, some guys don't."
How much has it changed since you went to BYU with the advent of the internet. Would you imagine it's the same honor code you had to follow?
"Well I wouldn't imagine it's any different. Like you said with all the things going on nowadays the IPhones, tweets, and all this kind of crap, I mean I don't see the campus any differently. I mean they're college kids, man they're going to do things. You know sometimes people will tell on you and sometimes they won't."
G/O Media may get a commission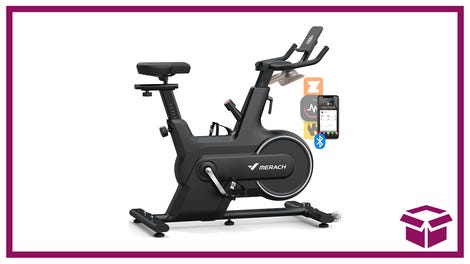 14% off + Coupon
Merach Indoor Cycling Bike
BYU has the leading the scorer in the country on their team. If Jimmer Fredette would have violated the code would he have been thrown off the team if he violated the honor code?
"Well again that's…I don't know what they would have done. Like I said I'm sure there's other players on that team and probably in the whole school who are still doing things they probably shouldn't according to the honor code, but it happens."
Did you know this honor code existed when you got there? Did they explain it to you?
"They explain it to you. They say 'Oh we have this honor code. People will probably talk to you about the religion and this and that.' They said 'All you have to do is tell them I'm not interested.' But I have to say I'm not interested for five years before I get out. It was everyday you get hounded by it."
I gotta think the people who are enforcing these rules are not abiding by all of them? They have to have skeletons in their closet don't they?
"Well I saw a lot of hypocrisy when I was there and that's what turned me off about it. Guys in administration, higher ups, sneaking off for coffee, these kinds of things that are supposedly illegal too yet some people get away with it and some don't."
This post, written by Steven Cuce, appears courtesy of Sports Radio Interviews. For the complete highlights of the interview, as well as audio, click here.
More from Sports Radio Interviews
• Chad Ochocinco won't "mess up the brand" by changing his name again.
• Shawn Kemp still thinks he could take Blake Griffin one-on-one.
• Despite all evidence to the contrary, Rick Neuheisel's happy with UCLA's recruiting.