However severe the injury to Tom Brady's throwing hand turns out to be, the mild panic it has generated in the run-up to Sunday's AFC championship game underscores a reality that is frequently easy to take for granted: Though he may seem like he will play forever, Brady is not indestructible.
The context: Back in October, the Patriots traded away Brady's heir apparent, Jimmy Garoppolo, thus exposing themselves to being exposed if something were to happen to Brady. (Let's be real: Brian Hoyer ain't winning you the Super Bowl.) Garoppolo, now with the 49ers, has since looked every bit the franchise-caliber quarterback he was believed to be. The conventional wisdom holds that the Pats kept Garoppolo for as long as they could, given the stern constraints of the salary cap. But could New England have massaged its cap situation in some way to have hung on to both Garoppolo and Brady, at least for one more year?
Joe Banner, the former CEO for both the Eagles and Browns, certainly thinks so.
"It really isn't that hard to do," Banner told me by phone this week.
For one thing, the cap keeps rising. It stood at $167 million per team in 2017, which is a 36 percent increase just since 2013. The 2018 cap is expected to be anywhere from $174 million to $178 million, though Banner believes the actual number might come in even higher. "I think the cap's going to be more like 180 to 182 or 183," he said.
This means, simply, that there will be more money to spend. The Patriots have already committed $15 million in 2018 salary toward Brady, plus an additional $7 million from his prorated signing bonus toward his cap charge, for a total of $22 million. Garoppolo, had he not been traded, would have been scheduled to become an unrestricted free agent in March. But the Patriots, as Banner suggested, could have placed the franchise tag on him—a move that likely would have cost an estimated $23.55 million in both salary and cap charges.
That would have meant $45.55 million against the cap for just two quarterbacks. Which seems crazy! But, as Banner explained, it's not as simple as that. Because the cap is fungible.
G/O Media may get a commission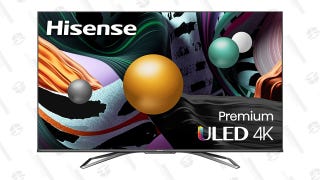 Save $350
Hisense ULED 65" Android 4K HDR Smart TV
"I always thought about the cap like a poker game, and you have X number of chips," Banner said. "And whether you're going to win or lose depends upon whether you bet the most on the right hands or not. So it's always just an allocation of priorities and what's most important."

Banner laid out an extensive cost-benefit analysis that goes far beyond LOL $45 million for two QBs.
"If you had made the statement to me, 'Would you ever put $45 million into the quarterback position for two guys over one year?' I mean, that's a no brainer. No. I'd never do that," Banner said. "If you said to me, though, could you rationalize for one year of putting $45 million into two quarterbacks, and in return for this, you get the year and a half of [Brady] insurance, and maybe the starting quarterback for the next 10 years, or a phenomenal value in a trade—and by the way the sacrifice you're making for the '18 roster is pretty modest because you've got some players who are planning on getting rid of anyway to create a bunch of room? Well, then, you go, 'You know what, that isn't as obvious an answer as I initially thought it was.'"
The trade possibility is the first big part of it. By keeping and tagging Garoppolo, the Pats would have signaled to the rest of the league how much they valued him. The knock-on effect here is the leverage it would have given the Pats in a possible trade. New England ended up dealing Garoppolo to San Francisco for a second-round pick. But by tagging him, the Pats maybe could have gotten a first-rounder from a QB-needy team—perhaps even from the Niners—in addition to clearing that $23.55 million tag cost from their books.
"The guy who was running the Browns at the time has said publicly that he would have given them Houston's first-round pick, which is the fourth pick in the draft, and more," Banner said.
While no Browns executive actually admitted that publicly, the Cleveland Plain Dealer's Terry Pluto reported this:
I know that [then-Browns executive VP of football operations Sashi] Brown was willing to part with Houston's first-round pick and other goodies. He would have been willing to help Belichick shop around for a backup quarterback to help the trade work.
Remember: The period to designate players for franchise tags comes before free agency. In theory, the Pats could have tagged Garoppolo and dealt him for a better return than what they got, and still had the resources available to do whatever it is they might have wanted to do anyway in free agency this spring.
Now, let's assume no suitable trade materialized. That would have left the Pats with both Brady and Garoppolo for another year. This, Banner explained, would have put the Pats in good position because they'd have Garoppolo if Brady were to get hurt, and they'd also have Garoppolo if Brady were to enter a severe decline in 2018. "You may have your quarterback for the next decade," Banner said.
What about the pinch this would place on the Patriots' cap? "Modest," Banner insists. First of all, the Pats can create a good deal of cap savings by not retaining a handful of players they may have no intention of keeping anyway. Banner rattled off Martellus Bennett ($6.4 million), Dwayne Allen ($5 million), Mike Gillislee ($2.4 million), and Phillip Dorsett ($1.54 million) as possible cap casualties, which adds up to roughly $15 million in savings. Then, when you factor in that the cap is expected to rise anywhere from $7 million to $16 million, it becomes a bit easier to envision how Garoppolo could fit into the equation.
"They have about $164-ish million in cap liabilities, if I just take off the guys that I think are probably going to be gone anyway," Banner said. "So if you are at 164, and the cap is, let's say 180 to 182, then at that moment you have Garoppolo tagged, and you have probably $13 million or $14 million in cap room. You can obviously do that."
This scenario would likely prevent the Patriots from spending a lot on outside free agents, but last year's spending spree was an anomaly, even if the individual signings were in character. Besides, the Patriots are famous for parting with veteran players via trades (Logan Mankins, Jamie Collins) for younger, cheaper talent.
"They won the Super Bowl without Gronk last year," Banner pointed out. "Nothing matters."
A number of teams are hoarding cap space, but as Kevin Clark of The Ringer noted last week, a lot of other teams—including the Patriots—have built winning rosters this year by spending closer to the cap. These teams are doing this by structuring deals to avoid paying any guarantees after one or two years, which leaves them with little-to-no dead-money charges should they decide to move on. A great example: If the Pats were to part with Bennett, Allen, Gillislee, and Dorsett this offseason—as Banner suggested—it wouldn't cost them a dime.
So why didn't the Patriots keep Garoppolo? That big Seth Wickersham ESPN piece said Belichick wanted to, but that owner Robert Kraft forced his hand, though Kraft later denied doing that to Sports Illustrated's Peter King. Also complicating matters, according to Wickersham, was Brady's growing disdain with having Garoppolo around.
Banner didn't want to venture a guess on why New England made the move, especially when Garoppolo's trade value was at its lowest. And all that drama, after all, hasn't much affected the Pats on the field.
"Listen, it may be as simple as, [Belichick] did the analysis I just suggested, and thought it was too much to give up for the benefits," Banner said. "He may have just come to a different conclusion.
"I'm saying keeping Garoppolo for a year and a half, knowing you can win even if you have an injury, and then in case Brady doesn't keep playing, he's worth keeping. [Belichick] may have said, 'No, no. I want to go for the Super Bowl in '17 and '18, and I'm not worrying about, you know, 10 years after that.' Or he thinks he can find another quarterback. It could be that simple."